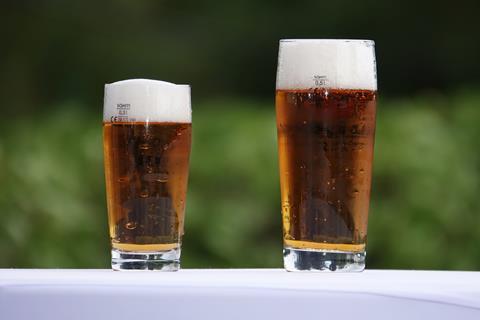 Convenience retailers and wholesalers have warned of beer shortages amid high demand from the hospitality sector and a shortage of drivers.
The Grocer has spoken to numerous industry sources who are facing supply issues on core beer lines, with brewers Budweiser Brewing Group and Heineken said to be particularly affected.
One multi-convenience retailer warned of a "perfect storm" of pressures with "a lack of drivers, an aluminium shortage and brewers diverting beer into kegs for the reopening of the on-trade as opposed to canning it".
A second senior industry source said wholesalers were "not getting the allocations of stock they need and that's on top of the range reviews last year which resulted in rationalised ranges".
A third source, at a buying group, added distribution levels were "as bad as 50% for some of the biggest brands following in-store audits".
A Heineken spokeswoman told The Grocer demand in the on and off-trade "continues to surpass our most optimistic forecasts" and that outlets that had opened were "selling up to 100% of pre-Covid levels".
"All customers have been made aware of the short-term supply challenges, and we are doing everything to increase capacity including sourcing additional beer from our European network."
Read more:
Heineken has also struggled to meet massive demand from the on-trade over recent weeks, with kegs of its Birra Moretti and Amstel brands in particular in short supply.
Budweiser Brewing Group wholesale and convenience sales director Jessica Markowski, meanwhile, said BBG was "working hard to meet demand in our convenience and wholesale channel" and "haven't seen any significant shortages or delays due to beer shortages".
However, she said: "Some of our customers may be experiencing some delays, due to external factors including the shortage of drivers affecting the industry."
Hauliers have been in short supply since the double whammy of Brexit and coronavirus. Many were EU nationals and returned to the continent, which has led to shortages of other goods in convenience stores as wholesalers struggle to deliver food and drink due to limited third-party logistics capacity.
Markowski said BBG was "exploring opportunities to mitigate the impact of this" in "the fastest and most effective way".The Grocer last year spoke to numerous drinks suppliers who were struggling to procure enough cans amid a surge in demand caused by the pandemic. The head of one prominent UK brewer said this week supply had remained "tight" for the last 10 months.
Markowski said BBG was not facing any issues around cans. "On can capacity specifically, we are forecasting well and we are not currently seeing issues here, but are monitoring the situation closely."