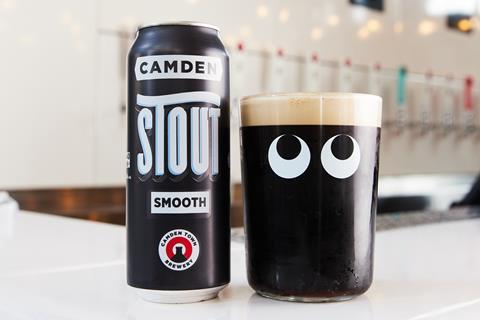 Camden Town Brewery has rolled out its new Stout into Sainsbury's.
The AB InBev-owned brand initially launched the beer on draught in May.
Cans of the beer are now stocked exclusively in the off-trade in Sainsbury's and via Camden Town's website. Both four-packs (rsp: £6.50/4x440ml) 10-packs (rsp: £15/10x440ml) are available.
The 4.0% abv brew was a "dialled back" version of Camden's earlier Ink Stout, the brand said.
"This is a more refreshing version of a traditional stout," a spokeswoman for Camden Town said. "We have dialled back the intensity of the hops and roast from our original stout, Ink, for a more balanced, approachable beer."
The new version – which comes with a traditional widget in the can – offered "the ultimate creamy and smooth finish" due to the presence of nitrogen bubbles, Camden Town said.
"Moderate carbonation balances the smoothness created from the nitrogen, for a beer which is jet black with a thick, creamy, long-lasting head," the spokeswoman added.
Earlier this year, Brewdog launched Black Heart, in a bid to challenge Guinness' domination of the off-trade stout category.
The beer launched as a Tesco exclusive in March and subsequently rolled out nationwide in September.
It has so far delivered value sales of £3.8m [NIQ 52 w/e 7 October].