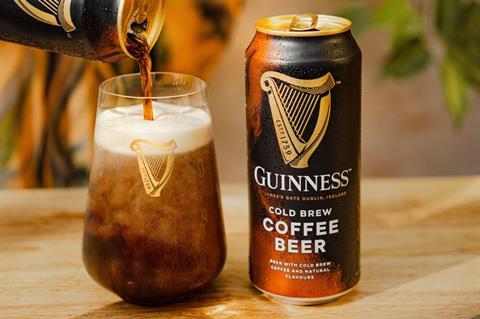 Diageo has confirmed it has retired its Guinness Cold Brew Coffee Beer after fewer than 18 months.
The beer – which was rolled out in April 2022 in a bid to recruit new adult drinkers to the Guinness brand – was axed some time in the summer, The Grocer understands.
Having been listed in mults including Tesco, Sainsbury's, Asda and Morrisons, only Tesco has remaining stock of Guinness Cold Brew Coffee Beer, according to research by The Grocer using Assosia data.
"We have taken the strategic decision to delist Guinness Cold Brew Coffee Beer in order to prioritise two exciting innovations, Guinness 0.0 and Guinness Nitrosurge," a spokeswoman for Diageo said. "These breakthrough offerings have incredible potential within the beer category."
At launch, it was promised Guinness Cold Brew Coffee Beer would bring "the magic of Guinness and coffee culture together" to create "an elevated experience for beer and coffee lovers alike".
The beer first appeared in the US in 2021, before making its way to UK shores last spring.
It had been billed by Diageo as a new permanent addition to the Guinness stable.
Competition has heated up in the stout category over the past year. In March, BrewDog launched Black Heart, its 4.1% abv Irish dry stout, in a bid to rival Guinness' domination of the category.
It followed this up in October with the introduction of a 6% abv coffee stout made in partnership with London coffee company Grind.
The beer is currently being sold in retailers including Morrisons, Sainsbury's, Tesco and Ocado.
AB InBev owned Camden Town Brewery has also entered the dark beer category, launching a 4.0% abv stout into Sainsbury's.
Guinness, however, remains Britain's most valuable ale and stout brand, with retail sales of its flagship stout well in excess of £100m [NIQ 52 we 9 September].
The Irish brand introduced Nitrosurge, a pocket-sized device that clips on to the top of special cans of the beer, in March.
The innovation allows drinkers to recreate "the ritual" of its two-part pour at home, according to Guinness.