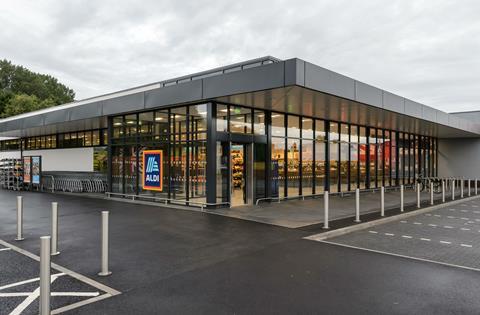 Aldi has launched grocery delivery in London by bringing its recently announced Deliveroo trial to Camden.
A trial launched from eight Midlands stores last month has been a success, according to the discounter, and its extension to London could be followed by a rollout across the UK later this year.
Customers within two miles of an Aldi Local in Camden now join those in the Midlands in being able to order from a range of 200 essentials such as bread, milk and fresh produce. The products are picked by Aldi staff and brought to customers in as little as 30 minutes by Deliveroo's network of riders.
"In the three weeks since we launched our partnership with Deliveroo, feedback from customers has been very positive," said Aldi communications director Richard Thornton.
"Extending that partnership to around 100,000 people living near our Camden store will make it even easier for them to access great-quality, affordable food at Aldi's unbeatable prices."
Aldi has sold online in the UK since 2016, but until recently the offer has been limited to general merchandise Specialbuys along with wine, spirits and a small number of ambient products such as coffee pods.
The service comes with a £4.99 delivery charge and products may be higher-priced than in stores.
In April, Aldi also launched food parcels, including rice, pasta, UHT milk and canned foods, for scheduled delivery.
Aldi is one of several supermarkets to forge or expand partnerships with Deliveroo during the crisis.
M&S franchise stores at BP petrol stations began offering home deliveries via Deliveroo in April. In May the service rolled out to 20 M&S stores in city and town locations, offering a range of more than 130 products.
Also in April, Morrisons signed a deal with Deliveroo to start deliveries by bicycle and motorbike from more than 130 stores.
The Co-op, which partnered with Deliveroo last year, is currently rolling out the service to 770 stores.
Meanwhile, Sainsbury's expanded its on-demand 'Chop Chop' delivery service beyond London for the first time in May, to 50 stores in 20 cities.
Lidl has been exploring selling online in the UK for over a year, including recruiting for e-commerce appointments, but has yet to launch a service.