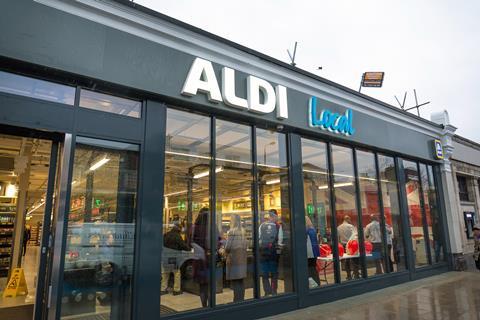 Aldi has named Greenwich in southeast London as the location of its first checkout-free store.
The store will use a system of cameras, sensors and artificial intelligence to identify products customers take from shelves, eliminating the need to use a checkout, Aldi said this morning.
The store occupies a former Poundstretcher unit at 245-247 Greenwich High Road, a few minutes' walk from Greenwich railway station.
The site is on the way from the railway station to popular attractions such as Greenwich Market and Cutty Sark Gardens, making for high footfall, including many tourists.
The store is expected to be an 'Aldi Local', the discounter's smaller-footprint format used in densely populated parts of London, with a trimmed-down range of roughly 1,500 products instead of 2,000.
Planning approval from Greenwich council in January this year said the store would amalgamate two existing ground-floor commercial units and have office space above it at first-floor level.
Before it was named as Aldi's first checkout-free store, local media reports had suggested an opening date of 28 October. However, Aldi said this morning a final opening date was yet to be set.
The checkout-free process, which involves being charged automatically via an app upon leaving the store, is currently being tested by Aldi staff.
"I think we've always been redefining what it is to be a discount retailer, whether that's the expansion of our product range, the introduction of Project Fresh where our stores are having a facelift, to the introduction of click & collect," said Aldi CEO Giles Hurley.
It was the result of "just listening to our customers, finding new and convenient ways for them to shop with us", Hurley told The Grocer.
"Clearly the opportunity for customers to have what I call a frictionless experience is an interesting one and it's worth us pursuing and exploring," he added.
Hurley spoke as Aldi announced its full-year results to 31 December 2021, including a 10.2% increase in UK & Ireland revenues to £13.5bn.
Operating profit dipped 1.2% to £287.7m thanks to "continued investment in price and the cost of responding to the pandemic", Aldi said.
Lidl is working on a scan-as-you-shop pilot. As revealed by The Grocer, the supermarket filed a trademark application for 'Lidl Go' in July for "self-scanning systems for customers". An 'early access' version of the Lidl Go scanning app was briefly available to download from app stores.
Terms and conditions briefly published on Lidl's website named its store in southwest London's Fulwell as the only one in which the app could be used.
Aldi has two recent trademark applications which would relate to its checkout-free store, 'Aldi Shop & Go' and 'Aldi Go'.