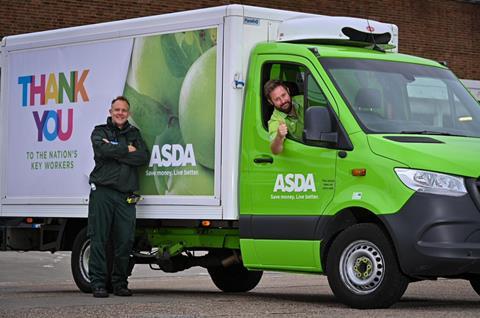 Asda has become the latest supermarket to warn customers against panic buying, urging them to shop normally to prevent food shortages.
The retailer also today revealed it was increasing its online capacity to try to meet demand as retailer websites struggle to cope with the impact of lockdown across the UK.
In a message to customers, Asda CEO Roger Burnley said it was "doing all it could" to keep stores well stocked but urged customers to "do their bit".
Asda's move comes amid reports of renewed stockpiling across the UK on the back of the latest lockdown measures, though supermarket sources are stressing the situation is nowhere near as bad as the panic buying in March.
Today Asda also revealed it was stepping up its online capacity and doubling the size of its partnership with Uber Eats to help cope with demand.
The expansion of its Uber Eats offering to 200 stores wil provide customers with a rapid 30-minute delivery service from next month, it said.
Before Christmas it expanded the service from 25 stores in July, to 100 stores across the UK.
Asda has increased its Groceries Home Shopping capacity by 90% since the first lockdown in March to 850,000 and estimates this will rise to 900,000 slots per week by the start of April.
Read more:
The service, which began with a trial in in Leeds and Birmingham, gives customers a choice of more than 300 Asda own-brand products and branded staple lines for speedy delivery, including ready meals, fresh fruit & vegetables and beer, wine and spirits.
As well as extra online capacity, Asda said it was "tightening" in-store safety measures on top of measures announced in the run-up to Christmas, including doubling the hours its Covid Safety Marshals will be on duty at the front of every store from 8am to 8pm.
Yesterday the Usdaw union called for retailers to "revisit" safety restrictions in store and consider reducing the number of customers allowed in back to the same limits as those introduced in March.
The letter claimed retail staff were at "greater risk of catching the virus and bringing it home to their families".
Burnley said: "As Covid restrictions are tightened across the UK to protect our health, we will continue to do all we can to keep colleagues and customers safe in store as we have since the start of the pandemic.
"Our stores and distribution centres have proved to be highly resilient to the challenges of a national lockdown and we are confident that we can continue to deliver choice and value for customers in the weeks ahead.
"We are asking customers can play their part too by continuing to shop considerately and respecting social distancing when they visit our stores."