Asda has acquired EG Group's UK & Ireland operations, and with a 'huge runway' for growth, is aiming to become the UK's second-largest grocer once more. So how does the deal work? And what's the rationale? We answer the big questions
Is this a merger or an acquisition?
It's an acquisition. Asda has acquired EG Group's UK & Ireland operations for a total enterprise value (meaning the inclusion of debt) of £2.3bn. For that they will add 350 forecourts (all to now be branded as Asda), plus 1,037 food to go outlets and in-store concessions selling Burger King, Greggs, KFC and Leon.
But they were working hand in glove before, and with the same owners (Mohsin and Zuber Issa and the private equity firm TDR). So what's different from before?
The group's owners have hailed it as a "transformative" deal that will turn Asda into "a multichannel champion" as chairman Stuart Rose put it, and enable the combined entity (with £28.8bn sales already) to rein in and overtake Sainsbury's £31.5bn sales and become the UK's second-largest food retailer. The starting point is a £150m plan, over three years, to fully integrate the two businesses.
How is the deal being structured?
That extra revenue is not coming cheap to Asda, which will see its debt pile (and leaseback obligations) rise further. Asda takes on an additional £770m of loan debt, which it will offset through £1.1bn of "property-related transactions", which mainly involve the sale and leaseback of Asda stores. The owners of both groups will also invest £450m of new equity of their own, which was generated from the proceeds of the £1.7bn received from the sale of 27 distribution centres to Blackstone in an earlier sale and leaseback deal
How much debt is being added?
Following union warnings last week over Asda's indebtedness, the supermarket is keen to argue the deal does not materially worsen its debt profile. It stresses that existing leverage ratios of approximately 4.3x (after finance leases and ground rent liabilities) will be maintained as a result of bringing EG Group's hefty UK profits on to Asda's balance sheet. Additionally, the overwhelmingly freehold forecourt estate being acquired means Asda's freehold value – with a freeholder portfolio worth £9.6bn – is maintained despite property sale and leasebacks on Asda stores helping fund the deal.
"The DNA of Asda is about value. And we are not here to rip the heart out of the DNA, we're here to enhance the DNA"

Mohsin Issa, Adsa co-owner
Has the deal spooked the markets?
Not really. Asda's debt profile was downgraded by ratings agency Moody's even before this deal. In April, the agency pointed to "continued uncertainty around Asda's ability to improve the performance of its business given macro-economic challenges… and the limited track record under the new ownership to effect a turnaround".
Shore Capital analyst Clive Black notes that, even with leverage remaining unmoved, Asda's remains "very high compared to key market competitors" while the group's quoted bonds have been "heavily marked down" in recent times due to "market worries about overleverage in a competitive UK market".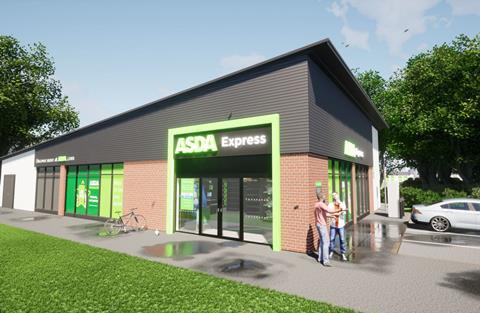 But the business, which is "highly cash generative" says Rose, has a capital structure that is right for the short, medium and long term. "We're running the business prudently. We're not increasing leverage substantially. and there was "plenty of appetite" for the private placement.
Adds co-owner Mohsin Issa: "We've engaged with ratings agencies and the feedback is credit positive. We feel this deal adds a different diversification to the business that offers more resilience."
So is this anything more than clever accounting?
Inevitably the market has viewed the deal as a way for EG Group to pay down its debt pile, with the wider global forecourt empire having racked up about $9bn in debt to fund its global expansion – and much of that needing refinancing in 2025. But while Rose insists the main driver was to create a multichannel retail powerhouse. "If as a consequence you've also got the opportunity of deleveraging on the other side, what's wrong with that?" he asks.
The benefits for Asda will take a while longer to realise. And retail analyst Nick Bubb questions how vital the acquisition is in that picture: "Asda didn't need to buy the EG petrol forecourt business to accelerate the rollout of Asda Express convenience stores… so it may well be that the planned merger is more to do with easing the funding pressure on the heavily indebted businesses."
There will be synergies, generating around £100m for Asda over the next three years, driven by economies of scale, higher volumes and cross-selling opportunities. And another £100m of working capital benefits from scale.
However, even the Competition & Markets Authority has implicitly questioned the significance of the acquisition, with reports suggesting it will not investigate as the two businesses were already considered de-facto merged.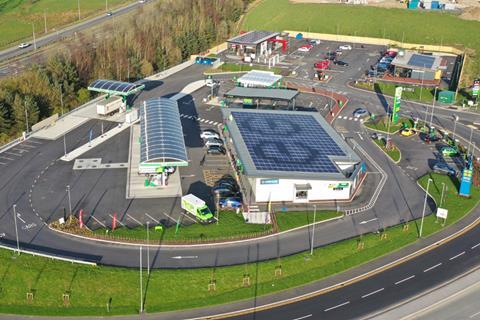 What exactly will Asda be buying?
Currently Asda operates 426 larger superstores/supercentres, 154 smaller supermarkets and 160 convenience stores, including the 119 it acquired from Co-op last year in a deal signed off by the CMA this week. Asda also operates 438 forecourts and 33 Asda Living non-food stores. The EG deal will take the number of forecourts to over 900, in an operation with a combined customer base of 21 million.
"I don't want to diss the previous owners but it was a little bit sleepy"

Sir Stuart Rose
What will this mean for Asda stores?
Early indications suggest a priority will be to bring more of these foodservice brands into Asda stores, with Leon already widely trialled, as it looks to replicate the success of EG in serving multiple missions in one convenient destination. With surplus space and the expertise of EG, Mohsin believes this acquisition gives Asda the ability to make progress far more quickly.
Even without this work Asda grew like-for-likes by 7.8% in the first quarter, with total sales, excluding fuel, up 8% to £5bn. "We have leant in and grown market share," says Rose. "I don't want to diss the previous owners but it was a little bit sleepy. It had lost its direction. Under the leadership of Mohsin in the last 18 months, we've shown we want to be a force and grow. You can't do that if you stand still. Retail is all about change. So the driver was creating a business which is a different business, a multichannel champion and scaling up opportunities at a faster pace."
And the big prize, as Issa looks to wrestle back the retailer's number two position grocery position from Sainsbury's, is convenience.
Until relatively recently, Asda's convenience presence was minimal. It had begun working with EG on a supply agreement, but as it stands the majority of the forecourt operator's stores are still supplied by Spar. To date, 166 EG sites have been converted to the Asda on the Move format, and while it's no surprise that all 350 stores will convert to the Asda brand, the revelation that sales uplifts in percentage terms post-conversion from Spar have been "knocking on the door of three figures", underscores the major growth opportunity this entails, making Asda a serious convenience player.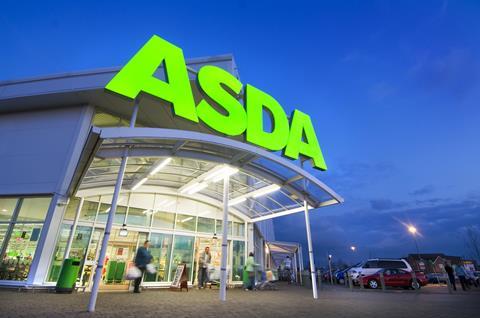 What will happen to employees?
The combined operation will employ 160,000 staff. While some redundancies are possible, Issa says the deal will be net positive in terms of job creation. And the £150m restructure will involve "combining skillsets from the two businesses to get a best-in-class workforce," says Issa. And while refusing to confirm if EG Group's Blackburn HQ will close, minimal upheaval is expected for EG employees who have to work at the Asda HQ thanks to hybrid working.
Who will run the combined operations? Asda has relaunched a search for a CEO for the enlarged business, having been without one since Roger Burnley left in 2021. The lack of a successor has led some analysts to speculate that prospective leaders have been put off by the presence of Mohsin Issa, who Rose says "will continue to be heavily involved".
"The CEO role is a great opportunity and if I was younger I would certainly go for it"

Sir Stuart Rose
But Rose also says it had "abandoned the previous search a long time ago" and that he is confident the combined job is an attractive one. "This is a great opportunity and if I was younger I would certainly go for it," he says. He is also full of praise for Issa, who he describes as one of the most impressive people he has ever worked with in his long retail career. "He is a faster mover and a quicker learner than anyone I've worked with," he enthuses.
In addition to the CEO, Asda CFO Michael Gleeson, who took up his post on 24 May, will sit alongside Kris Comerford, Asda chief commercial director, who will head up the combined buying function. Suppliers, who have been "overwhelmingly supportive", will benefit from working with one team for the whole operation, Issa vows.
What does the deal mean for prices?
Despite the extra debt, it's "rubbish" to suggest the deal would lead to higher prices, says Rose. "We will be highly competitive. That's the only way we will attract, retain and grow our customer base and the overall business."
Both grocery and fuel prices are currently the focus of a CMA inquiry across the supermarket sector. In the case of fuel, where the CMA has detected a decline in the gap between supermarket fuel prices and the rest of the market, Issa's conscience is clear.
"Our profits were down 25% because we invested in price for our customers, the biggest investment of the big four. So I don't think you can accuse us of taking advantage."
And the conversion of all EG forecourts to the Asda fascia will actually mean lower fuel prices for more motorists, as EG has always charged a higher price. As Rose says: "We have been the price leader, we are price leader and will remain price leader. And that will be with a wider audience than has hitherto been the case."As to the food side Asda has faced increasing competition from Tesco and Sainsbury's in the past 12 months, particularly as those two have ramped up the pressure using Clubcard and Nectar Prices, in addition to the discounters, who continue to gain share. But no matter what else happens, Asda will remain a value-led retailer.
"The DNA of [Asda] is about value," says Issa. "And we are not here to rip the heart out of the DNA, we're here to enhance the DNA."