Kendamil's boss is standing up for milk and lactose as a key ingredient, winning royal approval and listings in the mults. How else is he battling 'the big boys'?
So convinced is Ross McMahon in the merits of his formula milk, he has no qualms using it in his tea, his coffee – even his morning porridge.
"I'm not joking, it's so good I add a spoonful of our powder and it just creams it up nicely," says Kendamil's CEO and founder. "The taste is naturally sweet."
That sweetness comes from lactose, which "gets a lot of bad press for all the wrong reasons" as it is a key building block in early years nutrition, he argues.
"Breast milk is 50% lactose, that's what provides the energy for a child. When it's metabolised, it's done very slowly so the pancreas doesn't get this blast of sugar and isn't having to release insulin.
"If you say the gold standard is breast milk and that's where we want to get to, you won't get there if you don't use a mammal's milk fat," he adds.
That position sets Kendamil apart from the category's top formula brands, such as Aptamil, Cow & Gate, SMA and Hipp Organic. The "big boys", as McMahon describes them – indeed the majority of the global baby formula market, have "the same recipes, more or less, and certainly identical vitamins and minerals".
By using cheaper, non-dairy ingredients, including soya, fish oil and even "ultra-processed" corn syrups and glucose syrups, many major brands have "destroyed the natural goodness" of dairy in their products, McMahon claims.
"They have taken out the milk fat, put in vegetable fats and fish oil and created something that is not comfortable for many babies, not satisfying, is causing reflux, and colic, and leading to misdiagnosed lactose intolerances and dairy allergies."
McMahon's message is getting through. Sales are growing fast: up 11% to £23.2m in its latest accounts for the year to 31 March. They're up tenfold this year, he reports, thanks to recent listings with Tesco and Boots.
So how has he done it? And what's next? Born on an Irish farm and with a background in dairy microbiology, McMahon's 34-year career in the food sector has comprised corporate roles in exports, purchasing, operations, and supply chain. He then set up his own supply chain consultancy. But his interest in dairy microbiology could not be quelled and in the wake of the 2008 Chinese babymilk scandal he spotted an opportunity to shake up the sector.
"I spent five years researching the market, making sure I had overseas export customers in place, to be able to handle getting into a big league dominated by a few multinational brands," he says.
Snapshot
Name: Ross McMahon
Age: 56
Place of birth: County Monaghan, Ireland
Family: Lives in Kendal, Cumbria "within 10 minutes walk from the factory". Sons William, 30, and Dylan, 25, also work in senior executive positions for the business
Potted CV: Degree in agricultural and food science from University College Dublin, specialising in dairy microbiology. Has worked in the food industry for more than 30 years as an entrepreneur and executive in Ireland, Germany, Austria, the US and UK. Held positions at companies including Grove Turkeys, Rye Valley Foods, the Campbell Bewley Group and Java City. Joined Aramark as supply chain director in 2005. Founded Kendamil owner Kendal Nutricare in 2015
Hobbies: Enjoys hiking, swimming, reading about new technologies
Business mantra: Every-one can have an opinion, but with focus and up-to-date information, you can be an expert and realise a vision
Factory rescue
So when he heard that Heinz was planning to sell its only UK infant formula factory in Kendal, he started a year-long campaign to convince the food giant he could save the loss-making plant – opened by Farley's in 1962 – and keep its 100-plus staff in work.
In the initial deal, struck in 2015, Kendamil agreed to manufacture Heinz First Steps baby cereals under licence for four years. Since then, the brand has grown rapidly, developing its own brand of standard and organic cows milk and goats milk baby formulas, cereals and porridges – even products targeted at the elderly – while McMahon's sons William and Dylan left burgeoning careers in the financial services and tech sectors to join the business.
As well as its unique milk-fat formulation, Kendamil is also the only player in the sector to source and manufacture its formula in the UK. Indeed McMahon is now planning to deepen its relationship with dairy farmers after building its own pasteuriser last year.
"We can now say we can give you a better price for your milk [as we can process it] and add value," he says.
On the back of strong social media outreach Kendamil's focus has been primarily online: though sales in grocery were up 45% last year they still only amounted to £1.9m in The Grocer Top Products Survey [Nielsen 52 w/e 5 September 2020].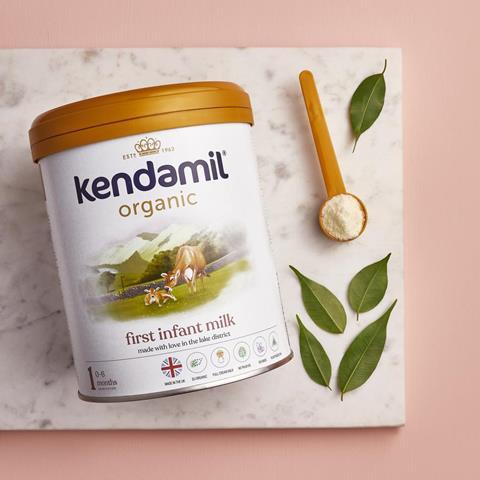 That performance will likely be dwarfed by the brand's 2021 performance. McMahon says its retail presence has grown five-fold on the back of its recent Tesco listing (in April) and a newly announced Boots listing across the UK & Ireland, which he describes as a "massive breakthrough".
"It wasn't an easy sell to the retailers, who initially just wanted the best price. But we did get through to them," says McMahon, noting Tesco's interest in Kendamil's appeal to Gen Z parents and ethnic minorities. It was given the royal seal of approval, selected by the Duke and Duchess of Cambridge for Prince Louis.
Rivalries
McMahon is clear that he can't rest on laurels in this fast-paced market, though. Having spoken to scientists at Great Ormond Street Hospital, who say it's almost impossible for a child to be born with lactose intolerance, he's commissioning research to prove the benefits of Kendamil in alleviating various allergic responses and digestion problems, with "double-lined randomised control trials, because that's what the likes of the NHS want to see".
Then there's the formula sector's latest "breakthrough" to contend with, and its promotion of synthetic human milk oligosaccharides (HMOs), which have been hailed as beneficial in infant development.
In response, Kendamil is also undertaking research to prove cows milk fat also carries prebiotics naturally. "What the industry has done is refuse to use the expensive milk fat, but they add back in token pieces and run studies around the benefits of it."
Yet another challenge lies in how it promotes those benefits. Kendamil got its knuckles rapped by the ASA in April after The British Specialist Nutrition Association – which represents its main rivals – complained it had used the term 'infant formula' in two Facebook adverts last May. That term is banned in UK advertising as it implies a product is targeted at children under six months old. McMahon stresses Kendamil used it in error and was unaware of the distinction between 'baby' and 'infant'.
The BSNA complaint is nonetheless a reaction by established brands to the threat Kendamil poses, he argues, and likens Kendamil to challengers such as Tesla and Brewdog.
"What people want is more traceability, sustainability and to move back to more natural products," he says. "They have a £400m business to protect in the UK. If the tide of public opinion moves in our favour, they're in big trouble."