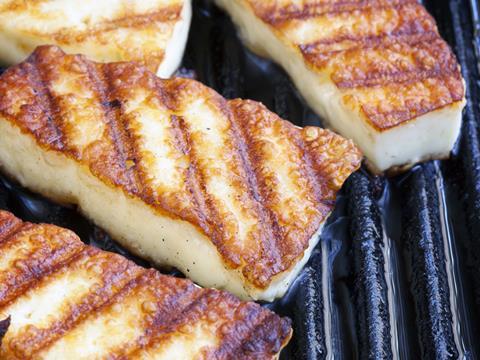 Prices for cheeses such as halloumi, gorgonzola, feta and roquefort are all expected to rise

Specialty meats such as prosciutto and bratwurst could also see increases

Food supply chains face "severe" disruption regardless of the trading scenario, said Arla
Shoppers face shelling out up to 55% more for imported specialty cheeses if the UK fails to secure a trade deal with the EU, new research for Arla by the London School of Economics has revealed.
The price of cheeses such as halloumi, gorgonzola, feta and roquefort were all expected to rise amid widespread shortages of EU products caused by expected border disruption, warned the LSE's Vulnerabilities of Supply Chains Post-Brexit report, published on Wednesday.
Specialty meats such as prosciutto and bratwurst could also see increases of at least 31%, the research claimed.
With 40% of agrifood products consumed in the UK imported from the EU, the report estimated food and drink imports would be hit with an average price increase from a no-deal outcome of 26.5%. Even a free trade deal outcome would lead to price rises of about 9.9%, it warned.
The report follows an earlier study by the LSE for Arla in 2018, which claimed even the slightest delay to supply chains after Brexit would mean UK consumers faced less choice, higher prices, and potentially lower food standards.
Now, with the end of the Brexit transition period less than four months away and no apparent movement in trade talks, Arla said the study reinforced concerns food supply chains faced "severe" disruption – regardless of the trading scenario from January.
"In the dairy sector, 15% of all products sold are imported into the UK, and 99% of this currently comes from the EU," it said. "A no-deal departure, with high tariffs, will hike up the prices of many of Britain's best-loved products; and even with a deal, non-tariff barriers such as increased paperwork and customs checks will have a major impact, increasing prices and reducing product availability."
Read more
Major inputs into the production and manufacturing of food would also be affected. About 69% percent of some aluminium products, 65% of certain pharmaceutical goods and 51% of many fertilisers are imported from the EU. Costs from tariffs and non-tariff barriers on these goods would hit farmers and processors across the UK, the report claimed.
"This report shows how integrated the UK-EU food supply chain is and the mutual benefits this brings to both sides," said Arla UK MD Ash Amirahmadi.
"We want to ensure this continues after 31 December and we know consumers expect this to happen as well. But for this to happen it is essential we secure a tariff-free agreement. And it is vital too that the government takes pragmatic and sensible steps to limit the impact of non-tariff barriers."
Truck chaos
The research was published on the same day the government issued its latest "reasonable worst-case scenario" for potential disruption to freight travelling between Great Britain and the EU at the end of the transition period.
In a letter to logistics operators, Cabinet Office minister Michael Gove warned between 30%-50% of trucks might not be border ready, which could lead to queues of up to 7,000 port-bound lorries in Kent and associated maximum delays of up to two days. Gove later told MPs that lorry drivers would also require a so-called "Kent access permit" to even travel into the county.
"The lack of capacity to hold unready trucks at the French ports, or to turn away freight prior to boarding in the UK, could reduce the flow rate to 60%-80% of normal levels," the letter warned.
Such a situation was "extremely concerning", said British Poultry Council CEO Richard Griffiths, who deplored the ongoing "lack of clarity" around the structure of the UK's future trading arrangements with the EU.
"Businesses cannot proceed while uncertainty about our direction of travel continues, and we foresee huge disruption at our borders particularly in the movement of food," he added.
"British poultry meat producers cannot be ready for the end of the transition period while government is failing to answer fundamental questions on the detail of trade. We simply have not been told what the right paperwork is or some of the detail of what it should contain."