This article is part of our Confectionery Report 2015
Sweets are for kids; chocolate is for women; both are unhealthy and neither are typically aimed at men, sportspeople or those with active lifestyles. By sticking to the same old story of indulgence, femininity and juvenile fun, confectionery is missing out on some of the biggest trends shaping food & drink. We think it's time to turn the category on its head.
So we've set Brandopus – packaging agency of the year in The Grocer's prestigious MAP Awards for the past five consecutive years – a creative challenge: can chocolate be both masculine and suave? Can gym bunnies be convinced to suck on sweets post workout? And can confectionery cash in on the functional food & drink trend? Here's what they came up with…
Brief one: Chocolate for chaps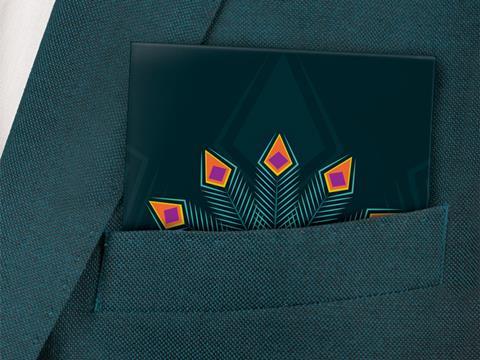 Yorkie and Snickers have had a go at appealing to blokes with their tongue-in-cheek Not for Girls and You're Not You When You're hungry campaigns. But the sophisticated man about town has for the most part been ignored by confectioners, despite chocolate oozing many of the qualities that might appeal to the modern chap. So how could chocolatiers get this demographic on board?
The answer: Congo Dark Chocolate with Mondai Whitei (rsp: £2.99/50g)
Ding dong! Congo might be a world away from Snickers' blunt and blokey Not You When You're Hungry positioning, but it's still using tried and tested routes to men's hearts. That's the stomach with quality chocolate and erm… slightly lower than the stomach with a root renowned across Africa as an aphrodisiac.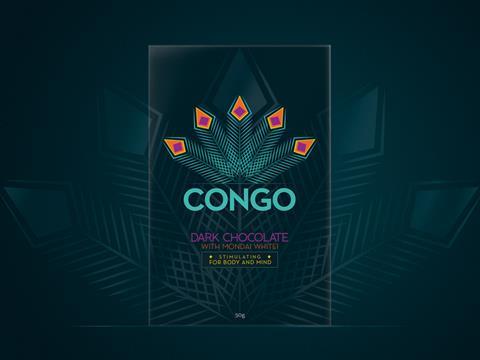 "We wanted to create a sense of discovery by using such an unusual ingredient," explains Brandopus executive creative director Paul Taylor. "This is a dark chocolate infused with stimulating Mondai Whytei – commonly known as Mkombelo, a Luhya name meaning desire. It's renowned in Africa as a stimulant for body and mind for both men and women."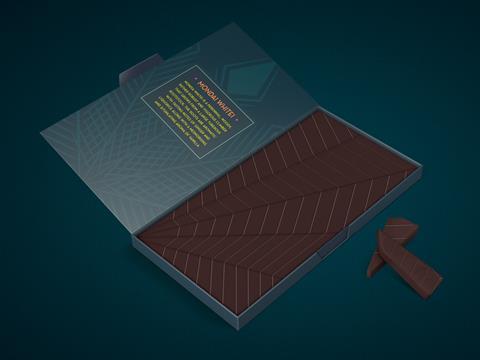 The brand is the antithesis of Yorkie and its Not For Girls branded packaging. Brandopus has taken cues from fashion to develop a more sophisticated, subtle masculinity, says Taylor: "We've looked across trends in other categories, such as skincare, where brands are no longer relying on overtly gender-based, stereotypical graphic cues – such as automotive language, and 'go faster' stripes."
Congo hasn't only taken its name from the impenetrable Central African jungle, an association that would appeal to any wannabe Bear Grylls. There's also a bird that shares the name.
"Congo is a type of peacock," says Taylor. "We've used the symbolism of graphic feathers in the identity, which is of course how the males attract their mate. The whole brand idea builds on attraction." Well Congo has certainly caught our eye.
Brief two: Sweets for gym bunnies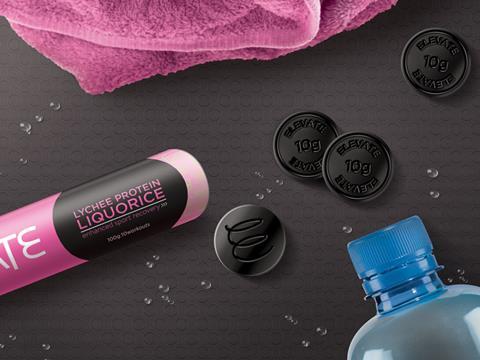 Marathon runners swear by jelly babies as an effective energy boost to get them over the wall and chocolate milk is big amongst the body building crowd as a muscle recovery aid. So what chance do other types of confectionery have in tapping the health and wellness trend that's transforming other sectors in food and drink? What would sweets for gym bunnies look like?
The answer: Elevate Protein Liquorice (rsp: £3.75/100g)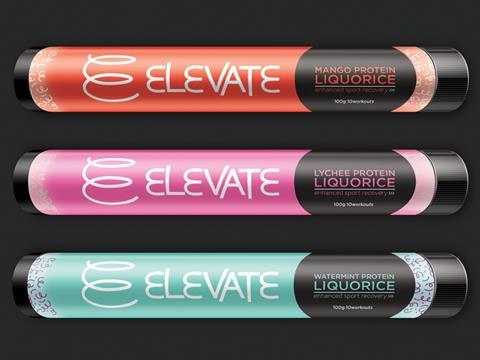 Like a coiled spring, Elevate comes to life post work out to give athletes a much needed boost. "The name Elevate was chosen because the product should be used to raise athletes' energy following heavy exercise," explains Taylor. "The brand identity is anchored in the idea of releasing potential. The brand symbolism with the spring alongside the text also conveys compressed energy."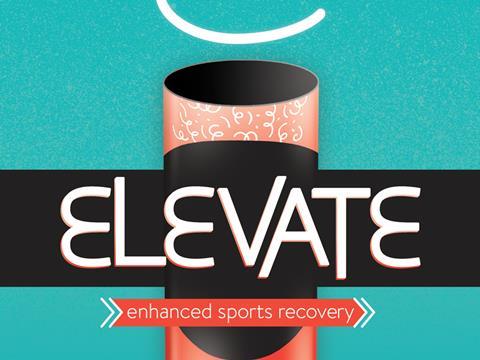 That's not all. Each 100g carton, slim enough to be stowed away in the pocket of a gym bag, would be spring-loaded to give easy access to each protein pastel, shaped like a gym weight to drum home the associations with exercise. Use of liquorice root, used in some cultures to aid weight loss, adds to the brand's health credentials.
Not even portion size (10g per pastel) has been left to chance, says Taylor. "According to Men's Health, the ideal protein content to have after a workout is 10g to 20g so Elevate falls within this recommendation," he adds.
"The closest competitor, Bounce Balls, also contain 12g per portion, so this offers a similar level of recovery aid."
Brief three: Functional confectionery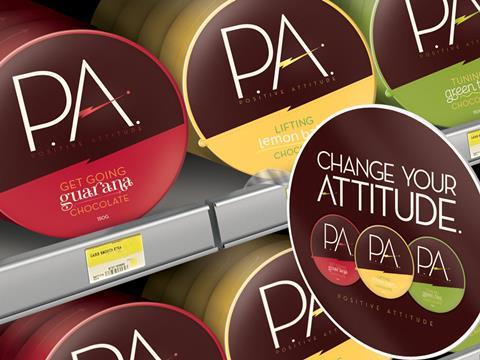 Functional food & drink is booming in Britain, as everyone from soft drinks brands to baby food manufacturers fortify their products with natural ingredients and make claims about their functional attributes. The trend seems to have passed confectionery by. Until now… how could the category turn the functional trend to its advantage?
The answer: Positive Attitude Chocolate (rsp: £1.99/150g)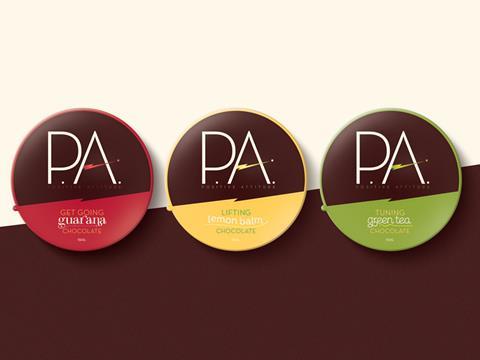 This is chocolate with benefits. The three strong range comprises guarana, lemon balm and green tea infused products to promote energy, wellbeing and concentration respectively. "We created PA around the idea of Positive Attitude," says Taylor. "But we're also playing on the double meaning that this is your personal assistant, giving you an added boost when you need it."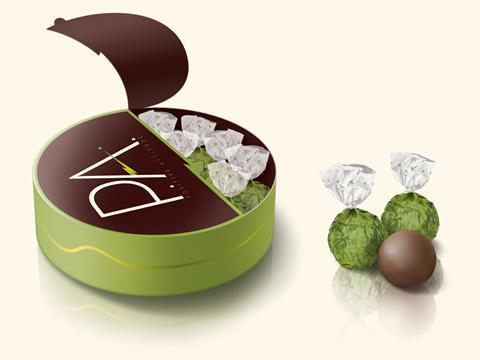 Note the lightning bolt on the packaging, a device Brandopus has used to indicate the energy the products can provide. The packaging format is also central to the products' functional credentials, based on the classic travel sweets pack design to allow consumers to stow them away ready for when a quick pick me up is required.
"The packaging is quite robust so it can be put into a bag, desk or car glove box and consumed whenever needed, as opposed to other formats which might require the contents be eaten all at once," says Taylor.
"It's designed to sit alongside the slightly more premium sharing bags in the impulse checkout section of a supermarket."
In partnership with Brandopus