Need proof that sweets make people happy? Here it is: more people buy candy to boost their mood than for any other reason, according to our poll of 1,000 shoppers about their attitudes to sweets. And most people will purchase them every week
This research was commissioned by The Grocer and carried out by Lumina Intelligence independently from Perfetti Van Melle (PVM).
1. Sweets are the UK's second most popular treat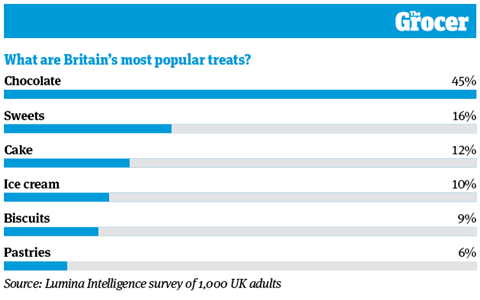 Sweets are the go-to treat for 16% of people on average across the UK, making them the second most popular choice after chocolate. But the popularity of sweets varies by age. People aged over 60 are the least likely to pick sweets as their favourite treat – only 10% do – while those aged between 35 and 44 are most likely. Among this demographic, 19% of people pick sweets as their treat of choice.
Preference for sweets also depends on living status. Single parents and people who live in shared accommodation are most likely to treat themselves with sweets; they're the top choice for 20% in these groups. At the opposite end of the spectrum are empty-nesters (10%) and people who live alone (11%).
2. People in the north west have the sweetest tooth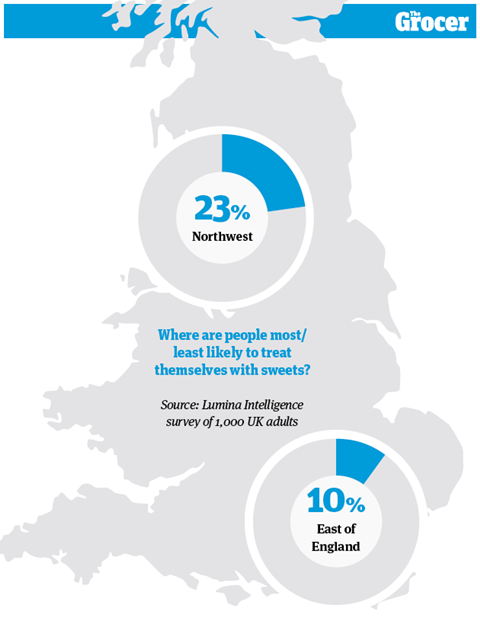 Pick-me-up preferences also vary from place to place. Nearly one in four (23%) people living in the north west of England would rather treat themselves with sweets than anything else, compared with just 10% of those living in the east of England. Those from the east Midlands and the north east are next most likely to treat themselves with sweets. There, 21% say sugar confectionery is their top choice.
3. Most people buy sweets at least once a week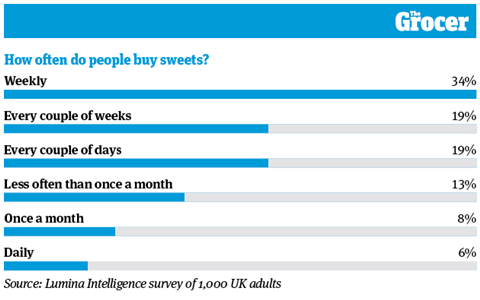 A third (34%) of people buy sweets on a weekly basis. And a quarter buy them more frequently: 19% do so every couple of days and 6% daily. It shows sweets are still seen as a relatively regular treat.
Stocking low and no-sugar sweets can help further increase purchase frequency, suggests PVM. "We've always known the appeal of low-and-no sugar products and the importance of offering consumers choice," says trade marketing director Mark Roberts.
"That's why there is a sugar-free alternative available for all our hero products, and we have supported our offering in this space by ensuring that these products have their own development pathways and are not simply 'tweaked' versions of existing recipes."
4. Sixty per cent of people buy sweets to lift their mood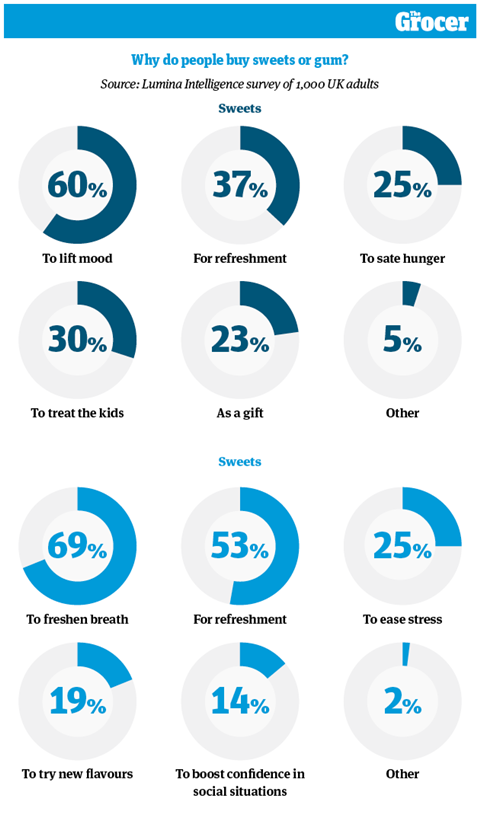 Here's proof of sweets' mood-boosting properties. The most cited reason for buying sweets is to "lift mood": 60% say this is why they head for the sugar confectionery fixture. The next most common reasons are "for refreshment" (37%) and "to treat the kids" (30%).
"Confectionery has always been the perfect medium in which to deliver a 'little lift' ­– sweets are an edible instant mood-booster," says Roberts. "Against strong economic headwinds, the so-called 'lipstick effect' is alive and well, and no grocery product delivers a treat as efficiently or at as compelling a price point as sugar confectionery."
People's top reasons for chewing gum might raise a few eyebrows too. That 69% of people chew gum to "freshen breath" may not come as a surprise, but that one in four (25%) do so to ease stress and 19% do to try new flavours is arguably less expected.
"As this space evolves, we would absolutely recommend retailers ensure they have a broad range of gum flavour offerings," says Roberts. "This will allow them to appeal to both traditional loyalists and younger users looking for flavours that may have been perceived as more 'candy' type flavours in the past."
5. Berries, cherry and citrus are becoming popular flavours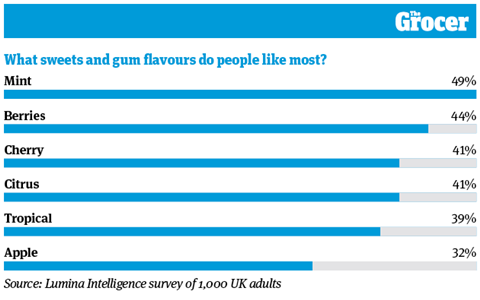 When it comes to favourite flavours for sweets and gum, the choice varies by age. While mint is the top choice (49%) when averaged out over all age groups, younger consumers prefer fruitier flavours. For people aged 18 to 24, tropical flavours are the top choice with 43% of the vote, followed by apple (42%) and cherry (37%).
"This absolutely chimes with recent research conducted alongside our most recent product development workshops for Mentos," says Roberts at PVM. "Our research shows 25% of people want new sweets with more exotic flavours, with 63% of sweet consumers wanting to see a wider range of flavours."
He continues: "Broadly speaking, millennial and gen Z consumers are becoming bolder and they're experimenting with flavours such as cherry and tropical, while gen Z customers are drawn to sour flavours."
6. Jelly sweets are Britain's top sweet treat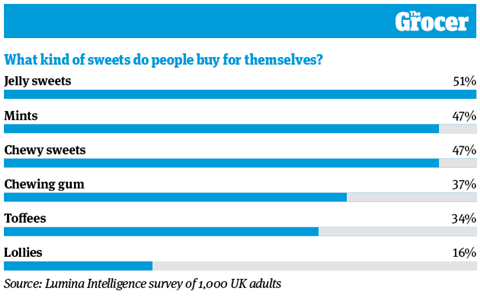 Jelly sweets are Britain's top choice of sugar confectionery: 51% of our sample said they bought jellies for their own consumption. Chews and mints are the next most popular, bought by 47% each. Mint consumption varies highly by age: just 28% of 18 to 24-year-olds buy mints versus 55% of people aged 45 to 54.
7. People are most likely to treat the kids with jellies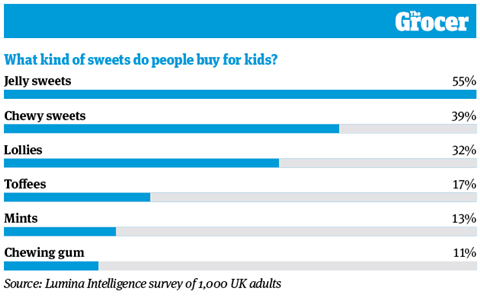 People are also most likely to treat the kids with jellies. Fifty-five per cent say they choose this kind of sugar confectionery when buying for children, followed by chews (39%) and lollies (32%). People are least likely to buy gum (11%) and mints (13%) for kids.
8. Men are significantly more likely to chew gum than women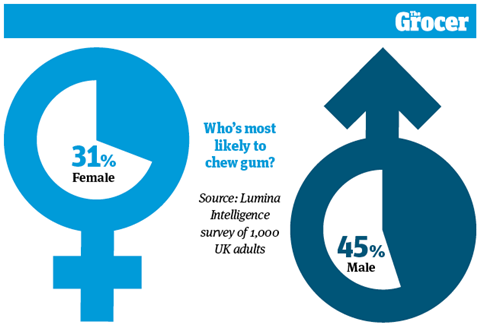 While 37% of people buy gum for their own consumption, there is a gender skew: 43% of men do so, versus 31% of women. Gum chewing is also skewed towards younger people. Fifty per cent of people aged 18 to 24 chew gum, but that figure drops sharply as people get older, to just 14% of people aged 65 or over.
9. Older people are more likely to eat toffees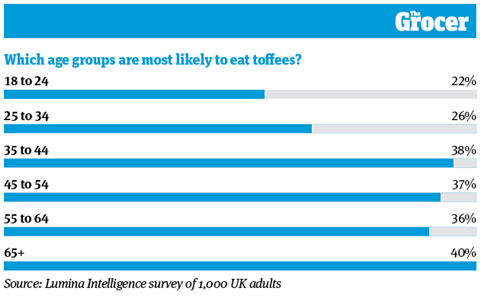 Older people would rather chew toffees than gum. Forty-five per cent of people aged 60 or over buy toffees for themselves. But they're less popular with younger people: just 22% of people aged 18 to 24 eat toffees, making them the age group least likely to do so.
10. People would eat more sweets if they contained less sugar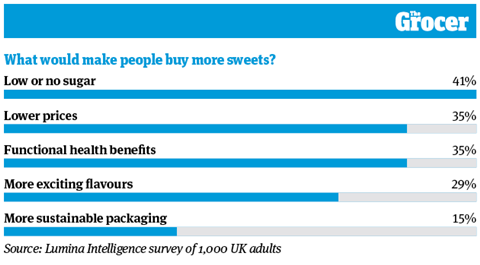 It's clear what would make most people eat more sweets: lower sugar content. Forty-one per cent of our sample said they would buy more sweets if they contained less or none of the white stuff.
PVM reports growing demand for its sugar-free sweets, driven in part by HFSS regulations. "The uplift in is certainly partly due to the HFSS legislation, but we're also seeing a wider societal shift towards health and wellbeing in general," says Roberts.
"This is further evidenced by the increasing demand for products that have boosted benefits, such as vitamin-enhanced mint products that can freshen breath whilst simultaneously doing you good."
Sweets that lift the spirits and do people good? There's another reason to smile.
Sugar crash: how can sweets return to growth?
1

2

3

Currently reading

Mood boosts, health concerns and exotic flavours: 10 charts explaining UK attitudes to sweets

4

5

6