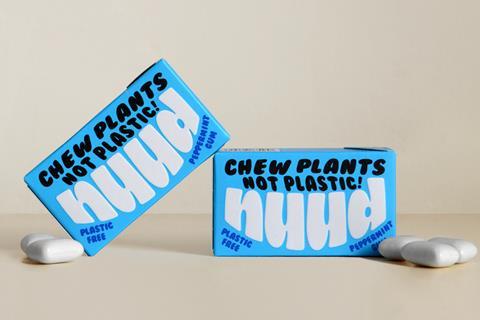 Plant-based, plastic-free and biodegradable gum brand Nuud has made its UK retail debut.
The brand – which is sweetened with xylitol and claims to be completely vegan and biodegradable – has rolled into Waitrose (rsp: £1.50).
It uses a tree sap called chicle in the place of plastic in its gum base, which it claims helps the gum biodegrade naturally "like a banana skin".
Ingredient transparency had become "a huge purchasing driver" in the category, said the brand. "Nuud's mission is to shine a spotlight on the plastic waste and litter issues associated with regular gum and to offer a natural, sustainable alternative."
"The government spends around £100m a year cleaning up gum from our streets. We want to tackle this and effect a wholescale change in behaviour when it comes to chewing gum," said the brand's founder Keir Carnie.
Shoppers were "increasingly more aware of the impact their choices have on the planet and we're thrilled to be able to offer them this plastic-free, plant-based chewing gum to support them in making choices that are kinder to the world around us," added Waitrose confectionery buyer Leyla Page.
It is not the only brand trying to take the gum category in a more "natural" direction. Sustainable startup Milliways, for instance, debuted with its own range of plant-based, sugar-free and plastic-free gums earlier this year.
However it comes after a difficult year for the gum category, whose sales were pulverised by the pandemic and the decline of on-the-go and impulse purchases. The gum category lost almost £50m in sales over the year to 5 September 2020 – roughly one fifth of the sector's entire value [Nielsen].