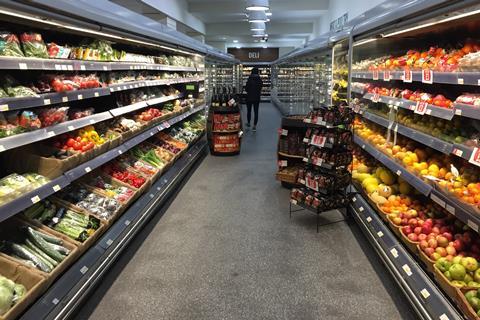 Reports of the 'Covid stone' may have been exaggerated according to new research from IGD, which shows consumers have been eating more fruit and veg during lockdown.
According to a new report, based on data from more than 2,000 consumers, up until November, more than four out of five (83%) have changed the way they plan, purchase and prepare food.
But the survey also found over half (51%) claimed to be eating more fruit and veg because of the changes to their diets.
Meanwhile 80% of consumers said that since lockdown they had taken some measures to try to reduce their weight, whilst 70% said they had been having more regular mealtimes.
IGD said the research showed a big shift towards consumers shopping less frequently because of concerns over Covid, with bigger baskets and more cooking and baking at home.
Despite the positive changes it said most consumers were still not achieving the 5 A Day recommendation for fruit and vegetables, with the average at 3.4.
The research also found four in 10 consumers still find vegetables are not exciting, while almost the same number (38%) perceive healthier, sustainable diets to be more expensive.
IGD has called on supermarkets to encourage further changes by swapping aisle-end promotions of foods high in salt, fat or sugar (HFSS) with deals on healthier products and for point of sale marketing in stores to highlight the benefits of healthy products.
Hannah Pearse, Head of Nutrition and Scientific Affairs at IGD, said the growth in fruit and veg intake showed supplies and retailers had a "unique opportunity" to turn the changes from lockdown into permanent heathier change to diets.
"Lockdown has seen the majority of consumers adopting new food behaviours such as cooking more from scratch and spending more time preparing meal," she said.
"Many of these new behaviours also had a positive impact on people's diets; for example, those who participated in a weight loss plan, bought a fruit or vegetable box or cooked more from scratch also claimed to have eaten more fruit and vegetables.
"This is all hugely encouraging when it comes to ways we can support people to increase their fruit and vegetable consumption. With most consumers still only eating 3.4 portions of their recommended 5 A Day intake, we know that significant barriers remain around habit, cost and confidence.
"Our research clearly demonstrates food and drink companies have a unique opportunity to act now and help consumers turn positive new behaviours into long term changes to their diets."