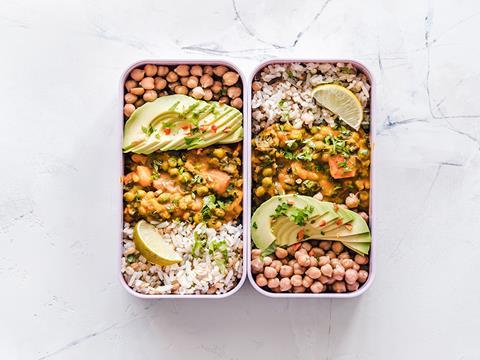 The final rigours of new year's resolutions are in sight as I type. Many people took the opportunity over the month of January to experiment with their diet in the guise of 'healthy' resolutions, and we'll see how many of our friends and colleagues persist with their veganism, vegetarianism or 'meatless Mondays' further into the year.
But people's start-of-year interest in food marks a good point to review some of the trends of 2018 in diet, recipes and specific foods and beverages. If you know what your customers are searching for, you'll be better able to deliver in terms of stock, promotions, helpful content and advice, and online and offline customer navigation.
Average household spending on food and non-alcoholic drinks rose in 2018 to £60.60 a week, according to the latest ONS data, while there is an average annual country-wide spend of £1,596 on online food purchase. The opportunity to increase share of basket is assuredly there.
Veganism really entered the mass consciousness last year – queries on the term rose 32% year on year. In absolute terms, searches for 'veganism' far outstripped other diet searches with 10 million queries in all. Saying that, searches for 'flexitarian' rose 98% and 'vegetarian' 12%. The one to watch is 'pegan' – a mix of paleo and vegan – queries were up 38% and interest is expected to rise.
People are also factoring in locally sourced produce to their diet in a big way. Organic food searches featuring 'near me' are on the rise. Queries for 'organic fruit and veg near me' jumped 186% year on year and meat is also included in the 'near me ' trend – search for 'organic butchers near me' rose 151%. If you have fresh, locally sourced produce in your offering, it pays to highlight this across your digital estate.
The link between diet, nutrition and holistic wellbeing continues apace and, singling out a just a few among a plethora of specialist searches, queries for 'balanced diet' rose 11%, 'high fat foods' jumped 34%, 'high fibre foods' 47% and 'probiotic foods' 31%.
Key food categories to monitor in 2019 include a rising interest in Mediterranean, Thai and Greek cuisine, with queries up 11%, 66% and 55% respectively in 2018. That's not to knock the great British roast – top growing Sunday roast searches included 'British Sunday roast recipe', 'roast dinner recipes with a twist' and unsurprisingly 'vegetarian Sunday lunch ideas'.
Specific recipes provoking curiosity include searches around Michelin-starred TV chef Tom Kerridge – up 454% – while that Christmas party staple, the Pornstar Martini, enjoyed a rise in recipe queries of 431%. Searches specifically for '100 calorie snacks' rose 439%.
Other items of interest to consumers worth monitoring on a regional and store level include 'vegan chocolate' and 'vegan chocolate cake' (searches up 35% and 32% year on year), 'organic castor oil' and 'organic chicken' (up 18% and 15%) and 'healthy food boxes' (up 76%). Now Dry January is over, note queries for ''Parma Violet gin' up 1,651% and 'pink gin' up 153% last year.
To sum up, interest in health foods and ethically sourced products will continue to grow in 2019, but consumers are demonstrating flexibility in adapting the prevalent diets and trends to their own preferences. It's certainly all food for thought.
Harry Walker is Industry head of grocery retail at Google