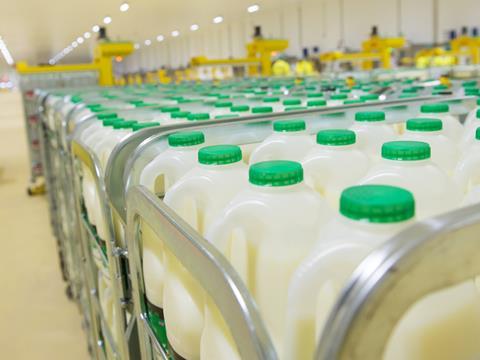 Arla Foods' UK business reported a slight increase in sales last year, though its MD Ash Amirahmadi has warned he remains "concerned about the future of the liquid milk market".
The dairy co-op reported a 0.4% increase in UK revenues to €2.28bn last year, according to its group accounts for 2019, published today. Total global sales rose by just under 1% from €10.4bn to €10.5bn, in what was described as a "positive year overall" after branded sales "exceeded expectations".
However, the ongoing effects of a weak exchange rate (averaged out at €0.85 to the pound for 2019) meant Arla's UK sales fell by 3% when converted to sterling, from £2.01bn in 2018 to £1.95bn last year.
And despite a range of measures to cut costs through Arla's Calcium initiative, the supplier was "not immune" to the well-documented challenges facing the British liquid milk market.
"Performance in this category held back our overall UK results in 2019," said Amirahmadi.
Following a chastening year for major milk processors, which led to the collapse of Tomlinsons Dairies and plunging profits among other suppliers, Arla's UK milk business was "not presenting the same opportunities seen in other parts of the global business", he admitted.
"We've been brilliant on brands," he added. "But the reason I'm concerned and disappointed is that we're seeing opportunities in other Arla markets [such as the success of a new carbon neutral milk in Sweden] but in the UK we're seeing rising costs."
However, he also stressed Arla's customers "understand these issues and are working with us to solve these problems", which would be remedied from a big drive to increase the availability of added-value milk.
"What milk is sold at is governed by the retailers. But what needs to be done is to drive growth of added-value sales a lot harder than we're doing at the moment."
Elsewhere, many of Arla's UK brands delivered strong revenue growth during the course of 2019, with cheese brand Castello enjoying a 7.8% increase in sales and Anchor up 6.4%.
Sales of products sold under the Arla masterbrand were up 6% – driven by growth across the cheese, yoghurt, butter and spreads categories, as well as the chilled milk-based beverages sold through the Starbucks brand license. Meanwhile, Arla's foodservice brand Arla Pro saw sales rise by 45%.
Branded growth was mirrored across Arla's global business, with total volume sales under the masterbrand up 5.1% last year, compared with 3.1% growth in 2018. This helped value sales climb from €2.9bn to just over €3bn.
Arla's group net profit rose from 2.8% in 2018 to 3% in 2019. This was in line with its annual target of between 2.8% and 3.2%, with any surplus paid back into the price it paid its farmers for their milk.
"Throughout 2019 we continued to build on the positive momentum that we have created in the business and Arla is a stronger company than we were a year ago," said group CEO Peder Tuborgh.
"We have strengthened our competitiveness and beat our financial targets while continuing our transformation through Calcium."