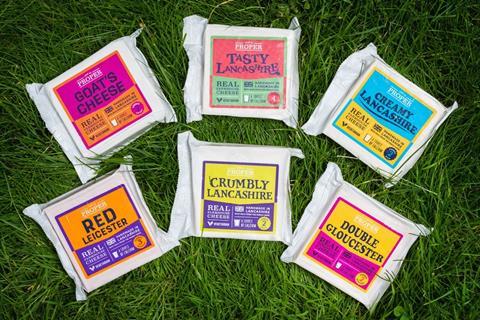 Lancashire-based Butlers Farmhouse Cheeses has launched a major new national cheese brand called This is Proper.
Described as a "purpose-driven" farmhouse cheese range, it consists of six cheeses: Creamy Lancashire, Crumbly Lancashire, Double Gloucester, Tasty Lancashire, Red Leicester and Goats Cheese.
All are made from milk within a 10-mile radius from Butlers' family herd, are fully vegetarian, graded by strength and available in the family-owned business' "industry first" 100% recyclable packaging, which first launched last year and is now used across its lineup.
The brand's core value was the belief "that everyone has the right to real farmhouse cheese", said Butlers. "It will provide shoppers with the very best of British farmhouse, handmade properly using traditional methods by Butlers' expert cheesemakers, for a fair, honest price", it added.
The full range went on sale in 60 Asda stores in the north of England last week, with further plans to roll out nationally over the coming months (rsp: £3/250g each). It is also available direct from Butlers' e-store, while the Proper Tasty Lancashire and Proper Goats Cheese is available nationally in Tesco, with the Proper Goats Cheese also stocked in M&S.
Packaged in bold colours to stand out on shelf, the brand's development was in response to growing demand for speciality cheese, said Butlers fourth generation owner Matthew Hall.
"They're also making a conscious choice to buy products with purpose, that support British artisan producers and put their pounds into the rural economy," he added.
"This is Proper allows this new breed of shopper to choose real, handmade farmhouse cheese and do their bit for the environment with fully recyclable packaging and sustainable production. Clear, on-pack messaging about the farmhouse way is clear and easy to understand."
Established in 1932, Butlers is best known for its Blacksticks Blue cheese, which is available across the mults.