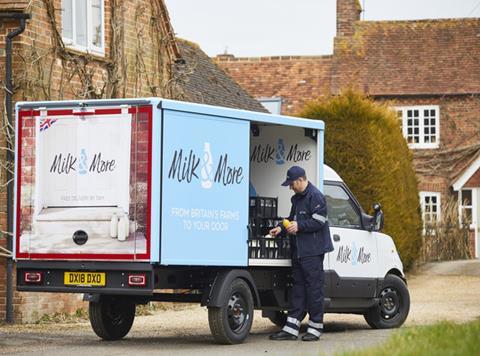 Müller's Milk & More doorstep delivery service has experienced a "surge" in demand as the coronavirus crisis has developed, leading to shortages of stock across some lines.
Shoppers have been complaining of a variety of issues on review website Trustpilot over the past few days, with a number bemoaning missing order confirmations, unfulfilled orders, missing items in their deliveries and a failure to amend or expand their orders.
The service's website was also down for a period earlier today.
In a notice on the Milk & More website, the brand said it had been experiencing "unprecedented recent demand", leading to shortages across some lines.
"While we continue to do our best to fulfil all orders, please bear with us if we are a little later than usual. We ask you to please shop responsibly," it urged.
A spokesman for Müller Milk & Ingredients added the doorstep delivery service had seen a "big surge" in people opening accounts in recent weeks.
"Like everyone else in the food industry, we're trying to focus on meeting our obligations and having to prioritise the most popular products in our range."
It comes as major supermarkets urge shoppers not to panic buy, while online shopping services have been creaking under the strain of the Covid-19 pandemic.
CEO Patrick Müller hailed the Milk & More brand's revival last December as he revealed it had added 75,000 new online customers in 2019. This helped take its overall membership above 500,000 and put the business on track to deliver sales growth for the first time in 40 years.
However, the success of the service and a shortage of drivers has led to delays and cancellations in recent months, with shoppers in the south of England in particular reporting delays to their deliveries and cancellations as Müller struggled to keep up with demand.