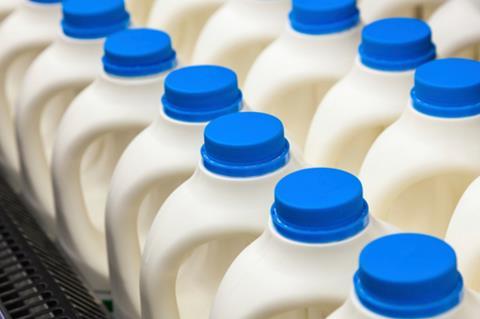 Freshways has become the latest liquid milk processor to announce plans to replace coloured bottle caps with a recyclable clear plastic alternative.
The supplier described the move – which will mean more than 300 tonnes of food grade plastic will now be available for reuse every year – as a "very important decision" in its drive towards improved plastic recyclability.
Clear caps will start rolling out across Freshways milk and cream products later this month.
The switch follows a similar move by Waitrose in June after a successful trial with its supplier Müller. Additionally, Aldi (also in collaboration with Müller), announced last week that it had embarked on its own clear cap trial across stores in Cheshire, Manchester and Liverpool.
"Our decision to remove the colour will enable recycling plants to recycle our caps back into food-grade plastic and reduce the food industry's dependence on virgin plastic," said Freshways director of national retail and wholesale Bill O'Sullivan, in a letter to customers and Freshways farmers.
The supplier would also "continue to explore ways to provide environmentally friendly products to all of our customers", added O'Sullivan, as part of a "drive towards carbon neutrality and a greener future for us all".
Freshways' merger with rival Medina Dairy received approval by the CMA in the spring, allowing it to clear the process' final regulatory hurdle to creating merged entity Medina Freshways (which will continue to trade as Freshways).
The business is now gearing up for the reopening of Medina's mothballed Watsons Dairy in Hampshire later this year, which will manufacture its new Love Milk brand, packaged in a carbon neutral carton.