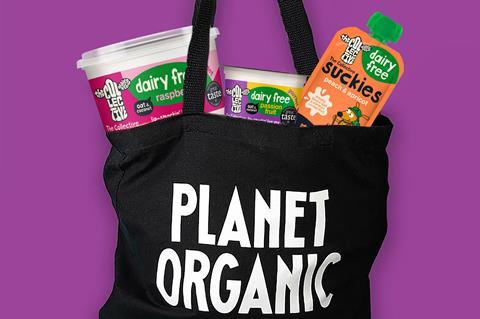 The Collective has secured a listing with Planet Organic for its dairy-free product range.
The brand's gourmet yoghurt alternative pots (in both big and small formats), plus its Suckies pouches for children will be available in 13 Planet Organic stores from March.
According to the brand, the dairy-free range addressed the rising demand for dairy alternatives. And for kids specifically, this was currently an under-represented space. While 14% of the category's market share was dedicated to this demographic, dairy-free options made up just 2% of that percentage, despite there being 18.2 million dairy-free households.
The gourmet pots are made of a blend of oat, coconut and rice and the Suckies contain vitamin D, B12 and calcium.
"Dairy-free and plant-based options, particularly for children, are an area of the category where there is a huge level of innovation taking place, helping to positively transform and expand the range of quality options available for consumers," said Sarah Smart, CEO of The Collective UK.
The dairy-free gourmet pots are available in Tesco, Ocado and Sainsbury's, and the Suckies can be purchased in Tesco, Waitrose and Ocado.
"We are delighted to have Planet Organic's endorsement as we continue to grow the presence of our dairy-free ranges across all UK retailers," she added.
The brand has said there were further new listings and distribution increases in the pipeline for 2023. It follows The Collective securing a new listing in Ikea across the UK in November as part of a new partnership with major wholesaler Bidfood.