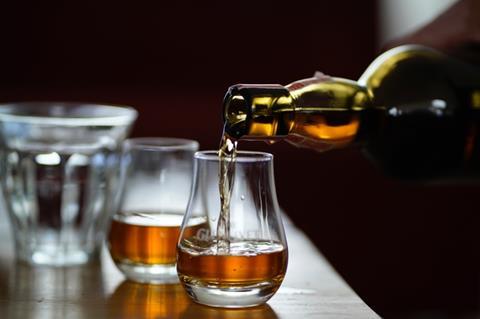 British food and drink exports have brought more money to the economy, despite a slump in volumes.
The sector saw export sales rise to £11.9bn in the first half of 2023, from £11.5bn in the same period in 2022, according to the latest Food & Drink Federation figures.
However, the value increase was largely due to inflation, with sales volumes down for most of the UK's top exports, including cheese, meat, gin and whisky.
Volumes were negatively affected by "the multiple challenges that the UK food supply chain has faced with significant labour shortages, rising wage and energy bills", the FDF said, all of which led to higher food prices and lower demand from international partners.
Sales volumes of pork were down 23% compared with H1 last year, followed by beef (–22.8%), whisky (–19.7%), chocolate (–16.3%) and gin (–12.4%).
Cheese exports fell by 3%, but the dairy product was still Britain's top food export and worth nearly £400m in the first half of a year marked by shoppers heavily trading down.
"Trade in UK food and drink is beginning to stabilise after the challenges of Brexit, a global pandemic, and global weather events in recent years, that led to significant supply chain disruption, surging energy prices and volatile ingredient costs," said FDF head of international trade Dominic Goudie.
"The growth we have seen in the first half of the year demonstrates our industry's resilience and future growth potential.
"While there are clear signs of recovery, as we start to see food and drink price inflation continue to fall, we need the government to work with the industry to help us stem the decline in the volumes of exports to the EU and further afield."
The increase in value of UK exports was primarily driven by 7.6% growth to the EU, or £6.9bn.
The FDF said there were signs that trade with EU markets was stabilising, with most of the top exported products seeing volumes to the EU increase in the first half of 2023. The bloc accounts for nearly 60% of all of Britain's food and drink exports.
On the other hand, value sales to non-EU markets were down 1.2% compared with the first half of last year.
The government's post-Brexit strategy is to reshift its exporting focus to markets beyond Europe, such as the US, Australia, China and India.
Goudie urged the government to "take note" of the FDF's recently published Trade and Investment Strategy, which details "how ministers can put food and drink at the heart of global Britain's new independent trade policy".
He added that Defra bolstering its network of in-market trade attachés in other international markets, as well as the newly founded independent Food & Drink Export Council, were "positive steps that will support future growth".