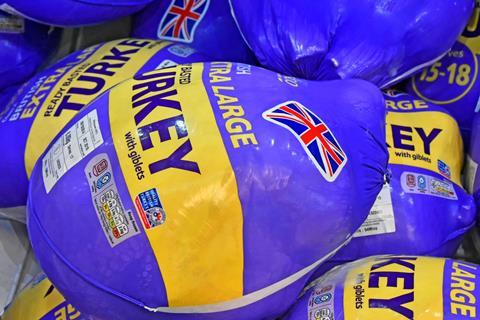 Shoppers face having to spend more on their turkeys this Christmas, with over a third of the birds currently available in the mults more expensive than last year, analysis of Assosia data by The Grocer shows.
In a sign the labour challenges faced by the poultry sector may have driven inflation into the category this year, of the 113 fresh or frozen whole turkey or turkey crown SKUs available this week (in the big four, Waitrose, Aldi, Lidl and Iceland), some 45 lines (or 39.8%) cost more than they did in the run-up to Christmas 2020.
Price increases ranged from 1%-2% on some items to as much as 33.3% for a large, fresh Tesco Finest British free-range turkey crown and a standard Tesco large fresh whole turkey, which both rose from £22.47 last year to £29.96.
Other standout price hikes included an 11.1% increase on a fresh Tesco Finest free-range Narragansett medium whole turkey, up from £47.25 to £52.50.
Asda has increased the price of seven frozen SKUS, with rises ranging from 10.7% for a large British turkey crown to 16.7% for a medium British turkey crown.
Waitrose's biggest price increase was by 27.5% for an Essential frozen large turkey with giblets, while a fresh extra large turkey breast crown was 9% more expensive.
Even the discounters have seen inflation, albeit at lower rates, with Iceland, Aldi and Lidl responsible for 25 of the 45 products to see year-on-year inflation.
Almost half (22) of the price increases were for turkey crowns, with 30 (or 66.7%) of the lines showing inflation sold in the frozen aisle, while just six were classed as premium products.
Despite fears over supply, there were actually slightly more whole turkey and crown lines on sale this week – 113 versus 93 during the same period last year, the data shows. Indeed, 2 Sisters Food Group president Ranjit Singh insisted last month the major supplier would be able to meet festive demand for turkeys, despite the challenges of the labour crisis.
However, there could be longer-term consequences if cost pressures continue. One senior poultry sector source told The Grocer this year's festive season was unlikely to deliver strong financial results for most suppliers, and it was "economically unviable to keep operating as many have had to this year".
"The government's seasonal visa scheme for poultry workers is just a sticking plaster, and we will need a better way of attracting staff to the sector next year."