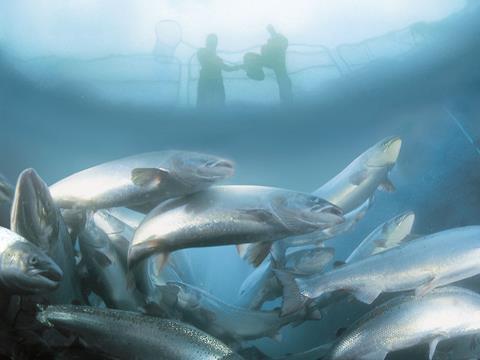 Animal rights campaign group Animal Equality has penned an open letter to the UK and devolved governments calling for CCTV to be made mandatory in farmed fish processing plants.
The correspondence, signed by 25 international aquatic animal experts, is also demanding unannounced inspections across fish farms in Scotland, England, Wales and Northern Ireland.
Signatories to the open letter included Dr Jonathan Balcombe, associate editor of the Journal Animal Sentience and author of New York Times bestseller: What a Fish Knows, Dr Lynne Sneddon of the University of Gothenburg,  and Professor Culum Brown of Macquarie University and assistant editor of the Journal of Fish Biology.
The action follows an undercover investigation by the NGO into a Scottish salmon slaughterhouse and comes at a time of mounting concern from animal welfare groups over standards in aquaculture farms.
Its footage showed fish having their gills cut without prior stunning and being repeatedly and painfully clubbed, in one instance as many as seven times, Animal Equality said.
Recommendations made in the letter included:
Making CCTV mandatory in farmed fish slaughterhouses, the introduction of impartial, third-party monitoring and the publication of all mortality data, inspection results and CCTV feeds – even for fish processed in private facilities – to be published centrally, publicly and immediately by the commissioning body
Implementing consistency measures where a certain rate of failure in any welfare metric triggers machinery halt, requires the summoning of a vet and provokes an official inspection of the facility by a government official or neutral third party
Holding aquatic animal slaughter facilities to the same legal standard as farmed land animal abattoirs, ensuring they are subject to unannounced inspections at least once a year by the Animal and Plant Health Agency, which is responsible for investigations on the welfare of farmed fish and introducing a system of license probation and revocation for non-compliance with welfare of animals at the time of killing (WATOK) laws.
"Had Animal Equality not carried out an investigation into the industry, I very much doubt the suffering of these particular aquatic animals would have ever come to light," said Dr Lynne Sneddon.
She added: "Specific, meaningful legislation is a critical part of the puzzle, and equally so is heightened enforcement and oversight."
Earlier this year, Defra published a review of the Welfare of Animals at the Time of Killing (England) Regulations 2015, which identified a number of improvements that could be made.
It has also asked government advisory body the Animal Welfare Committee to update its 2014 opinion on the welfare of farmed fish at the time of killing – current regulations (1009/2009) require that farmed fish are spared avoidable pain, distress or suffering during their killing and related operations.
"The UK has some of the highest animal welfare protections in the world, including when animals are slaughtered or killed," a Defra spokesman said.
"We are carefully considering issues raised in the review of the Welfare of Animals at the Time of Killing (England) Regulations, including detailed protections for the welfare of farmed fish."