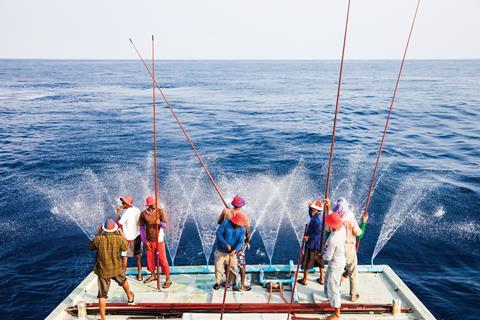 The Marine Stewardship Council has been accused of allowing unsustainable fishing practices in its certification scheme and presenting an "alternative reality" to consumers through its communications.
However, the claims, made by NGO Bloom, were described by the MSC as "wholly untrue".
In a report entitled 'Small is beautiful, but large is certified', Bloom said "industrial, high-impact fisheries represented 83% of the MSC-certified catches between 2009 and 2017". And yet, images of these practices made up 32% of the MSC's photographic illustrations in its reports and on social media.
Meanwhile "small-scale, low-impact fisheries", which represent only 7% of MSC-certified volumes, were shown in 47% of these illustrations, according to the analysis, which looked at 500 fisheries assessment reports and almost 400 images from them as well as its international Facebook page.
"There is a gulf between the reality of the MSC and the perception the brand has managed to establish in public opinion," claimed the report.
"On the one hand, the brand has diverted and emptied the 'sustainable fishing' expression of its meaning, by giving a blank check to the most destructive methods. On the other hand, the marketing of the MSC is intentionally misleading."
Bloom called on retailers to "stop being accomplices" of the MSC and to provide more transparency on the provenance of their seafood supply chains.
In response, the MSC said Bloom's analysis of its output was neither a "relevant or credible" way of evaluating its science-based certification programme.
"Seafood which carries the blue MSC label comes from fisheries which have been independently scrutinised by experts as meeting internationally recognised standards of best practice in sustainable fishing, no matter where it came from," the organisation said.
"The MSC works with and promotes sustainability for all types and sizes of fisheries. This is vital if we are to address the global challenge of overfishing," it added, while accusing Bloom of being "over-simplistic" with its suggestion industrial fishing was "always destructive".
"The sustainability of a fishery is not determined by its size or fishing gear alone. The important thing is to make sure that whatever the gear and the size of the boat, it is managed and used in such a way as to respect fish stocks and all the surrounding marine species and habitats," it said.
It comes after the MSC revealed volume sales of tuna carrying its certification had more than doubled in less than five years.

Global sales rose from 21,500 tonnes in 2015/16 to 54,000 tonnes in 2018/19, which meant 11% of UK tuna sales now carried the MSC blue label.
The MSC said the rise was a result of increasing retailer and consumer demand for sustainably sourced fish, which had seen the fishing sector transform its practices. Its own figures showed 28% of the global tuna catch was now sourced to the MSC standard, up from 14% in 2014.
"Although tuna is one of the world's most widely consumed and popular fish, the reality is around a third of stocks remain in a fragile state. By buying tuna with the blue MSC label, shoppers are playing their part in ensuring tuna stocks are secured for future generations," said MSC global tuna expert, Bill Holden.
Industrial fishing warning
Elsewhere, Greenpeace last week warned industrial fishing was on the rise during the coronavirus lockdown, with three Dutch supertrawlers having been spotted fishing off the coast of Scotland for the past month.
It is understood they are likely to be fishing for mackerel, herring, blue whiting or horse mackerel.
"Supertrawlers can catch and process hundreds of tonnes of fish every day and operate continually for weeks, even months," said oceans campaigner at Greenpeace UK, Chris Thorne.
"The primary concern is the intensity with which they fish; industrial fishing by supertrawlers involves catching a huge volume of the same species, of a similar size. This fishing intensity is not compatible with healthy oceans, and they also bring little, if any, benefit to local coastal communities."
However, CEO of The National Federation of Fishermen's Organisations Barrie Deas said Greenpeace viewed such vessels as an "easy target".
"They are likely to be fishing within their quota allocations which are checked by the authorities. With a partial exception for mackerel hand-line fishery, these are not species that are generally targeted by the UK inshore fleet," he added.