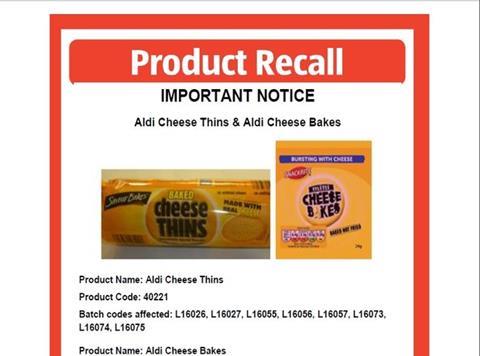 Aldi has suspended with supply relationship with baked goods manufacturer Baketime with immediate effect, after being forced to pull a number of products off its shelves.
The discounter was among retailers who were affected when a variety of snack products – including some sold by Aldi, Happy Shopper and Bestway – were suspected of having been made under unhygienic conditions at Baketime's Middlesbrough premises.
"We have recalled a number of Aldi-branded products that have been manufactured by Baketime, and have immediately suspended all orders with this supplier while we investigate this matter," said an Aldi spokesperson.
"Customers who have purchased the products listed in our public recall notices should return them to their nearest store, where they will be offered a full refund."
The recall was sparked by fears of "pest contamination" at the Baketime factory, according to the Food Standards Authority.
Baketime's website states the company is committed to food safety, and lists accreditations from the British Retail Consortium, Tesco and Marks & Spencer, among others.
However, M&S claimed the endorsements were not up to date and said it had not dealt with Baketime "for a few years now" and would "pick up" with the company about the details given on its website.
Baketime remains accredited for the BRC Global Standard for Food Safety, and was last audited in December 2015, when "standards were found to be satisfactory", said the BRC.
The industry body added it was now "undertaking a thorough investigation to understand the issues relating to the product recall… and any implications for the certification."