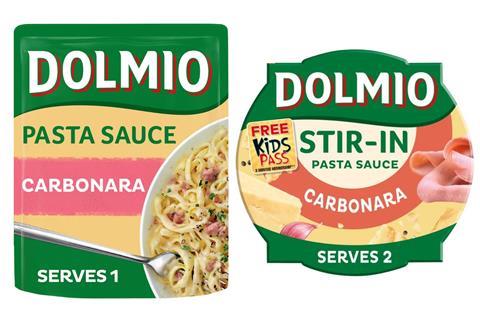 Mars Food is recalling a batch of Dolmio pasta sauces due to the presence of undeclared traces of soy in the products.
The products that have been recalled are: Dolmio Carbonara Pasta Sauce 150g pouches marked with 28 February 2023 and 1 March 2023 best before dates, and Dolmio Carbonara Pasta Sauce 150g stir-in pots marked with 26 April 2023 and 27 April 2023 best before dates.
An alert posted by the Food Standards Agency yesterday (16 June) stated the products were "a possible health risk for anyone with an allergy to soya".
A spokeswoman for Mars urged shoppers with a soy allergy to "not consume this product".
"Anyone impacted by this recall should contact our consumer care team for a full refund", she said.
It comes after data published last year revealed the number of food products recalled due to undeclared allergens had dropped by 10%.
However, allergens aren't the only cause for concern when it comes to food safety.
Mars Wrigley last year recalled a batch of its M&M's Crispy products due to the presence of a genetically modified organism.
Earlier this year, Kinder was forced to recall several lines of Easter treats amid salmonella fears – leading to a 30.1% decline in sales at a total brand level [NielsenIQ 4 w/e 16 April 2022].