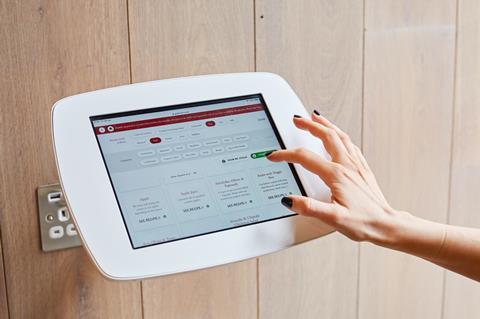 Pret a Manger has begun its nationwide rollout of full ingredient labelling as it vows to improve information for "every customer with allergies or intolerances".

Following a successful pilot at two stores in London Victoria, the sandwich chain has this week rolled the new labels out to another 18 stores in the capital - with further rollouts planned later this month.

It means Pret is on track to meet its summer target for implementing full ingredient labelling across all of its stores - one of the "meaningful changes" promised by CEO Clive Schlee in the wake of the death of teenager Natasha Ednan-Laperouse.

The chain has also this week pledged to share quarterly incident updates as part of a new "Five Point Allergy Plan" aimed at tackling some of the issues faced by customers with allergies when eating out.

Pret's plan - which also includes the launch of new tablets in every shop, the removal of allergens from a range of products and a widening of its allergen training for staff - is based on recommendations by former FSA CEO Tim Smith, who chairs its independent food advisory panel.

Smith has been conducting a comprehensive review of the chain's food policies since last October, when it emerged a second customer - Celia Marsh - had died from a suspected allergic reaction to a Pret a Manger sandwich.

"The issue of allergies has struck a deep chord within Pret a Manger following the tragic deaths of Natasha Ednan-Laperouse and Celia Marsh," said Schlee.

"We said we would learn from the past and make meaningful changes. This plan brings together some of the most important changes we have been making to help customers with allergies."
Range of issues

Full ingredient labelling was "at the heart of the plan", and Pret had shown it was "operationally possible in small kitchens when proper care is taken", Schlee said.

However, labelling was "only part of the challenge", he warned.

"We have listened to Pret customers with allergies and they have told us they face a range of issues when deciding to eat out - from limited menu choices to a lack of awareness and understanding from food businesses," Schlee added.

"Pret's Allergy Plan will tackle many of these issues - and help to ensure that every customer has the information they need to make the right choice for them."
Customers will be able to use the new tablets to search through Pret's menu, filtering out ingredients to find products they can consume based on their individual dietary needs.

Pret has also reformulated over 70 products, removing allergens where possible without compromising product quality or taste.

It will build on its existing staff training programme to 'encourage the right behaviours and understanding of allergies in every shop'.

This includes adding allergy awareness to its weekly 'mystery shopper' programme and launching new upskilling programmes for 1,000 baristas, hot chefs and other key roles - with a £1m investment in higher rates of pay for those who complete the additional training.

Pret will continue to work with Smith and the food advisory panel, which is made up of a range of campaigners, experts and policymakers, on "further changes over the coming months", it said.