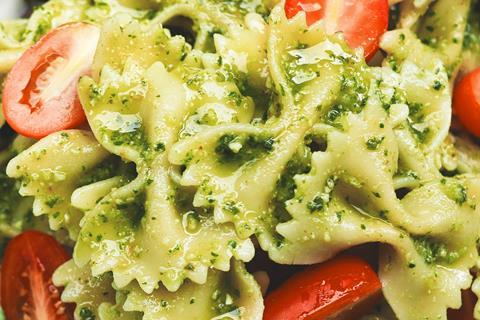 Tesco has recalled its own-label pesto due to fears the products may contain undeclared peanuts – yet tweets show shoppers were complaining of allergic reactions as far back as 31 December.
The supermarket on Friday (10 January) recalled 190g and 280g jars of its Green Pesto, as well as 190g jars of Reduced Fat Green, Reduced Fat Red and Spinach & Ricotta pestos, all with a date code before 1 November 2022, warning they were potentially contaminated with peanuts.
Concerns were first raised as far back as 31 December, when one shopper tweeted he was "currently sat in hospital with my one year old after an allergic reaction to your pesto, yet he is not allergic to any of the listed ingredients".
Tesco responded to the shopper and asked him to return the product in order to carry out an investigation – but almost two weeks passed before it issued the recall.
It's the latest twist in a saga which kicked off when market leading supplier Saclà recalled 19 lines of its branded pesto (as well as Waitrose and Aldi own-label products) shortly before Christmas, over peanut contamination fears.
Saclà also took almost two weeks to issue its recall after being alerted to the possible contamination on Twitter.
Sainsbury's followed Saclá by recalling its own-label range last week, admitting it shared the same raw ingredients supplier as Saclà.
A Tesco spokeswoman said that "as a precautionary measure" it was asking customers who had purchased the products and were allergic to peanuts to return them to stores, where it would issue a full refund.