It's not just our undercover shoppers that say the frozen food fixture could do with a rethink. Some of the industry's biggest players agree too. And although things are changing – for example, with the introduction of more efficient, frost free freezers and better lighting – detractors claim the pace of change is still glacial.
"The consumer perception is that by the time they reach the frozen aisle they are tired, they're reaching the end of their shop and have spent a lot of money," says Brian Young, cheief executive of the British Frozen Food Federation. "It's uninviting, it's unexciting and there aren't many food images there so it's quite difficult to shop because everything is behind glass doors. Anything we can do to makes the fixtures more appealing would be a good thing."
Birds Eye says it is aware of the challenges. "As part of our research, we've looked at how shoppers want to shop and how it could make their lives easier," says sales director Neil Barker. "They told us the fixture isn't laid out in a way that helps them provide meal solutions. For instance, if you wanted a roast dinner, in the vast majority of supermarkets it would mean visiting three separate sections in two different aisles."
That's not all. The research also found that the physical barrier of having a freezer door puts some shoppers off. Others say the fixture is poorly signposted and difficult to navigate. "To resolve this we are looking to make the ranges smaller, simpler and more visible," says Barker. "Shoppers told us they want a way of engaging with the category which added warmth and food values."
So how could we get shoppers skipping down the frozen aisle?
We've enlisted retail design agency M Worldwide to show us. The brief was simple: transform the fixture into one in which shoppers are more likely to linger; integrate frozen food into the shopper's journey around the store; and ultimately, drive value back into frozen through innovative design.
Here's what they came up with…
Phase one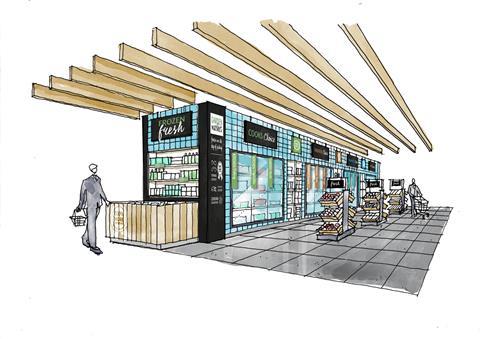 "There are a lot of barriers with frozen food, both physical and emotional, but if you can break them down there are some great stories to be told," says M Worldwide's joint MD David Martin. "This was our starting point."
First off, the practicalities: gone are the frosty freezer doors and sparse, unclear signage. Instead, we have a well-lit, warm environment with produce clearly visible and sign posted in a clear, inviting manner. The addition of kitchen tiles help play to the foodie cues of the products available.
"The frozen fixture can be very functional, and frankly dreadful. It can be more like a warehouse," says Martin, adding that these changes would entail relatively little investment or disruption. "We're using the visual language you get in the fresh categories and telling the stories behind frozen food."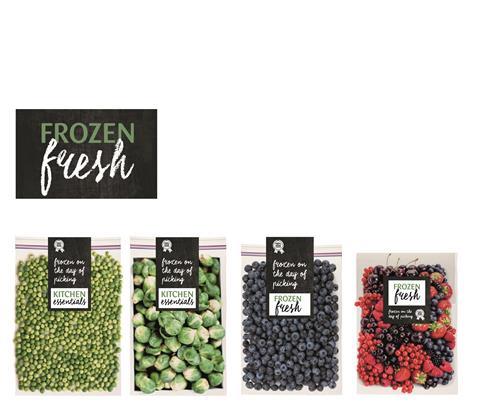 Such as its freshness, hence the 'Frozen Fresh' signage, and the 'Cook's Choice' range, designed to play to frozen's strength in offering home cooks convenient, portion controlled items that can be used when making more complicated dishes at home.
Then, the master stroke: cross merchandising, a simple concept, but still underused in the multiples, say some in frozen food. Stocking fresh and ambient products alongside frozen – say, lemons with fish; noodles with veg – will help frozen become more integrated with the rest of grocery.
"The position of frozen food in store makes it feel out on a limb," says Martin. "This is about making it part of the shopper's journey. At the moment it feels like a collection of big sacks of commodities at the end of the store."
Phase two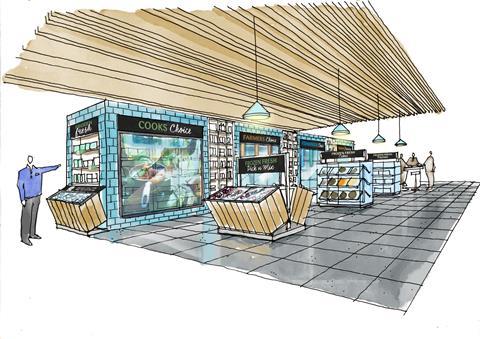 The transformation continues and the barriers start to come down. "We've introduced pick and mix units for Frozen Fresh veg," says Martin. "We'd be presenting them in much the same way as you would get in the fresh aisle, with limited packaging, overcoming the barrier packaging can create."
That's not the only way frozen could take its cues from other parts of the store, and indeed other stores (the use of wood panelling is designed to give a farmers' market feel). Display units inspired by patisserie counters for frozen cakes and pastries (for which there is significant appetite, our research shows) have been introduced, extending the range of frozen desserts on offer.
That's not all. "If you look at the far end of our artist's impression, next to the pastries, you can see our frozen yoghurt and ice cream bar," says Martin. "You can imagine shoppers spending time in there mixing their own dessert. Ice cream should be interesting, fun and something that you get engaged with. This would help tell that story."
With a bit more capex, the freezer doors could tell their own stories, literally. The freezer door beneath the Cook's Choice sign is actually a digital display screen, which could be used to show recipe ideas and guidance on cooking. Next door are fresh and ambient items required by the recipes, so aspiring Hestons can pick up all they need in one fell swoop.
Phase three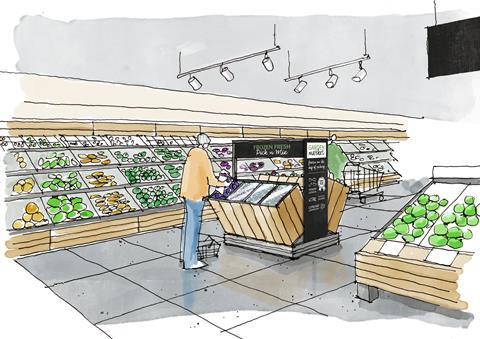 The demise of the frozen food aisle. "We've completely integrated frozen food into the rest of the store," says Martin. "So here you'd get frozen peas alongside fresh veg, frozen cakes in the pastry section and even frozen cocktails in BWS. It's about giving more choice during the shopper journey."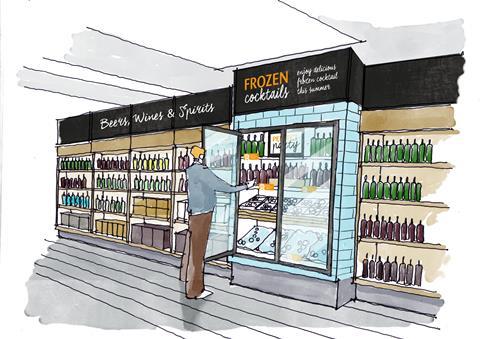 The freezer units might seem a bit Damian Hurst, minus the shark, but their dispersal around the store would have several tangible benefits for retailers, contends Martin. "Some of this is already a reality in some parts of the world where we've worked," he says.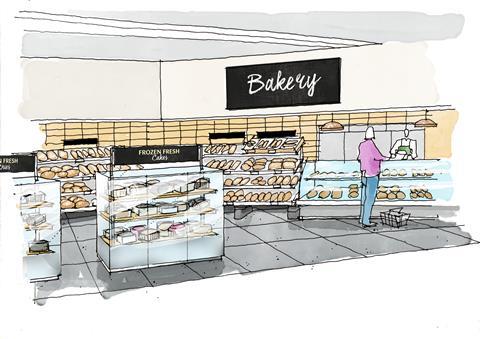 "In some of the bigger stores we've visited in Russia they stock frozen beautiful, gateau style cakes alongside fresh. In this country frozen food can feel very low end and value orientated but there's no reason why it can't be aspirational and more premium."
Back to: Undercover shoppers
Forward to: Frozen aisles get squeezed
By understanding how shoppers think, feel and behave – today and in the future – M Worldwide works with leading brands to develop omnichannel brand experiences, environments, and service design that expose shoppers to a wider range of products, influence behaviours, drive sales, build loyalty, and increase advocacy and word-of-mouth.http://www.mworldwide.co.uk/