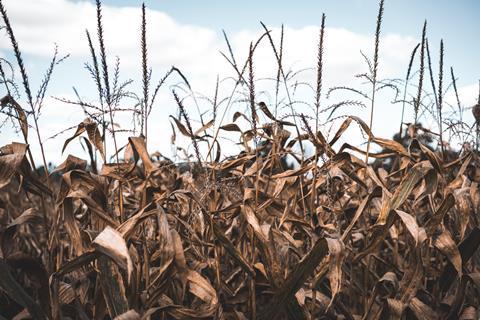 The UK could face crop shortages in coming months due to a lack of water, growers have warned, as they voiced concerns over national water security.
Following several months of dry weather, NFU deputy president Tom Bradshaw told The Grocer that water was now a "critical issue" for the growing sector, and for some crops "the writing is on the wall".
"I can't see how potato yields are going to be anything but well below average," said Bradshaw. "Onion yields the same. Carrots and lettuce are in the same boat as the hot weather has had really severe impacts on them."
British Growers Association CEO Jack Ward echoed the concerns. Crops already in the ground were "running short of water because irrigation licences have been restricted or shut down altogether," he said, which would mean yields were "severely curtailed".
Meanwhile, Ward warned that not enough crops were being planted to keep the UK supplied with vegetables in the winter. Soon, "we could be looking in some instances at reductions of up to 50% in production", he forecast, though he also caveated that some parts of the UK such as Scotland would continue to have higher production levels due to wetter conditions.
Many growers now relied purely on drip irrigation – where the water is put directly into the soil rather than sprayed over crops, including Tom Hulme, a cherry grower at Kent-based AC Hulme & Sons. However, he said this system merely offered "maintenance water", which stopped crops from drying, rather than helping them grow.
And Ward also warned that irrigation was not a long-term solution and with energy prices high it added to already significant input costs for farmers.
Import concerns
Typically, when crop yields in the UK are not reaching the levels expected, retailers turn to imported varieties. However, both Bradshaw and Ward warned weather issues and water scarcity across Europe could limit this option.
"If you look at Spain, climate change models suggest it is going to become more and more vulnerable from a water perspective and I don't think when we are importing vegetables from over there we are really thinking about the impact that has on water scarcity and water availability," Bradshaw said.
Their concerns follow drought warnings and hosepipe bans in parts of the UK , with some regions not seeing any substantial rainfall since the Jubilee weekend in April.
This has led growers to call for more security in the water system. "The sad thing is that we don't need to be in this situation," argued Ward. The UK needed to "get smarter at using water that's available in the winter", he urged.
"We are pumping billions of gallons of water into the North Sea every year and we need to think about how we can capture that and transport it around the country and utilise it in the summer months," added Bradshaw.
One way of doing this was through more flexible abstraction licences to enable abstraction to take place during floods for utilisation in drier periods, he suggested.
Farmers have taken matters into their own hands with the construction of boreholes and other irrigation systems. However, this alone was not enough, said Hulme, who suggested more could be done by the government to support the sector on the issue.
Water transportation
"I have great sympathy for those trying to make these decisions but, move the water around the country to where it is needed, that can be done," he said. "I don't know why they didn't put some massive pipes under these high-speed rail lines. Move the water from where it is to where it is needed, that would be sensible. It costs money but it would be sensible.
From a policy perspective, Bradshaw said current Environment Agency thinking and its abstraction licences were weighted in favour of the environment. This now needed to change to introduce a statutory requirement to maintain food supply rather than "the risk of environmental damage trump[ing] food production every single time", he said.
Other solutions included speeding up the construction of water infrastructure, which Bradshaw recognised went beyond government agencies to local planning committees. There was also a need for "government to value the strategic importance of water", he said, adding "there are solutions available but it is going to take a concerted effort".
"What we are seeing this year is hopefully an extreme and not the norm but it is something that we have to plan for because if this becomes a one in five or one in ten year event you can't not have water available and be trying to produce horticulture crops, that simply doesn't work," added Bradshaw.
And in order for growers to become more resilient, Bradshaw said that it was "absolutely crucial" for the wider supply chain and retailers to recognise pressures growers are under, even in the cost-of-living crisis, adding that "having product available for next year is also a major concern and retailers will only have that product available if they look after their growers now".
It comes as industry British Berry Growers this week published data showing that in June and July there was average retail inflation of 10% across all berries in the mults, resulting in a decline of 6.8% in sales volumes. However, retailers saw total value sales climb by 2.9%, suggesting they continued to make money out of the produce.
Nick Marston, BBG chairman said: "As inflation pushes up prices, supermarkets make an increased level of profit on berry sales. This needs to be shared equitably."
"Higher retail prices have seen sales of British berries fall, creating crop surpluses. These surpluses are then discounted, and it is our growers who feel the impact."