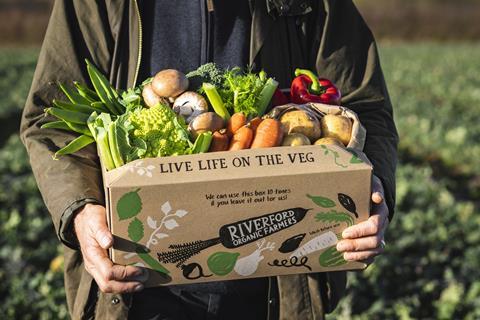 Organic veg box company Riverford Organic Farmers has announced plans to expand its wholesale operations to supply more cafés, restaurants, and other retailers across the UK.
The company said demand for wholesale had increased by 25% year on year, with demand from farm shops, cafés and retail up 37% and restaurants 43%. As a result, the business had expanded its team and offering across its wholesale department and was on the hunt for new customers.
The brand claimed this strong growth came as a result of a growing trend for plant-based food and rising interest in food provenance and ethical business.
"There is growing demand for provenance when eating out and customers actively looking for organic and seasonal quality," said Lynette Sinclair, head of wholesale at Riverford. "It's great that more customers are seeking to support their local farm shops, cafés and retailers, and that we can get more organic, seasonal produce on to shelves and plates."
B Corp Riverford is certified organic through the Soil Association and its wholesale business is a Food for Life accredited brand, which means schools and hospitals can offer organic on their menus.
It also has a supplier charter, which enables the company to develop good relationships with its growers and farmers while ensuring fair prices, trust and communication.
"Riverford has always strived to find a better way of doing business than the norm, and as more and more businesses look to do the same, I think we are an obvious choice to offer a great product, as well as an ethical business model," said Sinclair. "We are actively building out our wholesale operation to meet the new demand."