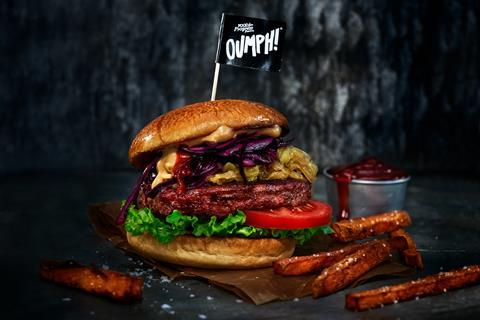 Plant-based brand collective The Livekindly Co has raised $135m (£104m) to accelerate its mission to transform the global "unsustainable meat-centric food system", including developing chicken and egg alternatives.
The group, headquartered in New York and Zurich, aims to make healthier, more sustainable plant-based alternatives accessible to consumers worldwide.
The majority of proceeds from the latest capital fundraising will be used to increase capacity and accelerate the 2021 nationwide US launch of portfolio brands The Fry Family Food Co, LikeMeat and Oumph, which are currently available in select markets across Europe, Africa and Australia.
In the UK, Oumph is available at Tesco, Asda, Morrisons, Sainsbury's, Ocado and Whole Foods Market. LikeMeat is available in Tesco, with a number of different products including smoked pea protein-based sausage and schnitzel. Fry's products are available in Tesco, Sainsbury's, Holland & Barrett and Morrisons.
Livekindly will also use the cash to develop new products, including plant-based chicken and eggs.
The collective launched in March and adopted the name of the LiveKindly vegan news website it also bought this year.
Parent company Blue Horizon Corporation, a food technology-focused venture capital fund founded in 2018, led the $135m funding round, with investors including a syndicate from Asia led by Trustbridge Partners, global investment organization EQT, product development group Griffith Foods and other existing shareholders.
"We see significant investor interest increasing around our movement," said Kees Kruythoff, CEO and chairman of Livekindly Collective.
"Through our plant-based food platform we're committed to ethically and environmentally-friendly practices in everything we do. We are also uniquely positioned to scale rapidly and transform the current global food system."
With this additional round, the total funds raised by the company in 2020 amount to $335m (£257m), including a $200m founders round earlier in the year, resulting in Livekindly becoming one of the highest funded plant-based food companies globally.
"Global consumer demand for plant-based meat alternatives is growing rapidly, creating a meaningful opportunity for investors, and our focus on chicken alternatives addresses a massive global need," added chief financial officer David Knopf.
"Our plans to accelerate business growth not only meets the demand of consumers for healthier and more environmentally friendly products, but also creates an attractive investment opportunity behind a purpose-driven business model."
Through strategic partnerships with seed growers, producers, and distributors, the collective claims to be the only company in the plant-based food sector to own and operate the entire value chain.