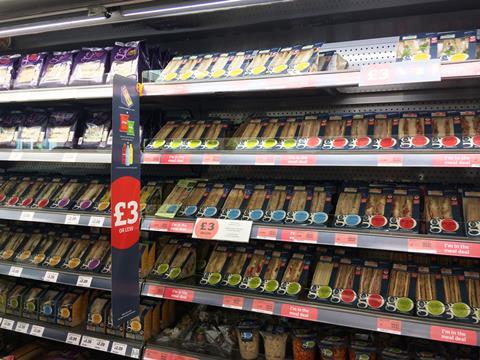 PHE boss Alison Tedstone told The Grocer back in September the organisation's war on calories would dwarf any previous moves to push the food industry to reformulate and shrink its products.
She obviously wasn't kidding, considering the epic scale of the reformulation programme revealed today.
An abbreviated list of products that will either have to shrink by a fifth on average, or have 25% of calories somehow removed, includes all pre-prepared sandwiches, pizzas, ready meals, sandwiches, processed meat, cooking sauces, chips (takeaway and frozen), crisps and sausages. In total, 13 food sectors are covered.
Yet despite the huge challenge now facing the industry, in some ways today's developments are a victory for its leaders and the message they have been preaching on how to battle obesity.
When the government launched its much-derided Childhood Obesity Plan in 2016, it was amid near-hysteria in the press over just one ingredient: sugar.
Until now, PHE's work on reformulation has focused entirely on getting 10 other sectors, which incidentally aren't covered by the latest crackdown, to cut back on the white stuff. The results of the first year of that programme are due to be released in the next few weeks.
The industry won a partial victory last March when it persuaded PHE those targets should be based on removal of calories, rather than actual grams of sugar, which had been the original intention.
Today's initiative, which covers the lion's share of the other 75% of foods not on the sugar naughty step, extends this further to the sort of overall 'calories in, calories out' approach that was, ironically, the focus of the industry and the Department of Health under the Responsibility Deal.
There are other positive signs that PHE has listened to the concerns of retailers and suppliers in its latest programme. Last year The Grocer revealed its war on sugar had met a "wall of silence" from out-of-home operators, in stark contrast to the wave of reformulation going on elsewhere.
Tackling the vast number of chicken shops, kebab houses and other takeaways whose products do so much to contribute towards the calorie-busting junk food nation will be vital if the new programme is to succeed. Therefore it is encouraging that PHE today recognises it may have to launch a dedicated programme to tackle the OOH sector.
Having a level playing field does not mean having a one-size-fits-all approach. It is obvious that, aside from a handful of bigger players, the OOH sector needs a far more draconian approach regarding the amount of calories on its menus, as well as far more robust systems for measuring it. It can't simply expect shops to come to the table on reformulation.
As for the rest of the food and drink industry, it now faces a huge technical challenge. Already thoughts will be turning to just how companies can react to such a sweeping call for calorie reduction, even though the specific sector targets won't be set until the middle of next year.
While boffins are already investigating what can be done with futuristic ingredients like carbohydrate-based fat mimetics, maltodextrins, polydextroses, microcrystalline celluloses, starches, fibres and gums, it is likely many suppliers will look to a much more simple option – to shrink products en masse.
It's easy to see why this is such a tempting path for PHE and companies to go down. But unless the forthcoming sugar reduction report proves otherwise, there is still limited evidence that portion reduction actually works in tackling obesity.
PHE has pointed out that today's moves are based on the UK's successful salt reduction programme – yet portion size control formed no part of that programme.
In fact, PHE admits that if this shrinking of products goes too far it will simply result in consumers buying two products instead of one. Perhaps that should be termed a 'Bogaic' (buy one get another in case).
Despite PHE telling The Grocer it will stand up for companies that shrink their products, the truth is this will do little to appease the wrath of the public if pizzas, crisps and ready meals get smaller – especially if prices don't shrink as well.
Yes, the scale of today's programme dwarfs that which has gone before, but if all it results in is a mass surge towards shrinkflation, there will be bigger problems than ever ahead.