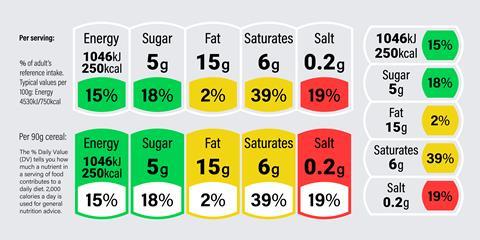 What does good look like? It's a question that is set to become ever more crucial over the coming year, as food and drink companies face growing pressure to quantify their health and environmental credentials – and signpost these to consumers.
On the health front, the government is urging large food companies to report sales according to health metrics. So far, so laudable. But here's the kicker: what actually is healthy?
In this case, the definition is likely to be linked to the government's nutrient profiling model, which has been used to determine foods that qualify as HFSS. This could open up a can of worms. As one industry source points out, many ultra-processed foods – the subject of recent media scrutiny – would qualify as healthy under this model. Then there's the question of animal-based products. Would they be lauded for their nutrients, or demonised for their fat content?
It's an important question to get right. Although the reporting is voluntary – something that might rile the likes of Action on Salt, which is campaigning for mandatory reformulation – it will have clear implications. The figures will not only inform campaign groups and shareholders, but the agreed health metrics will likely be shown on pack. No prizes for guessing how that will affect sales.
A similar story is going on in environmental measurement. The government is set to require all major food companies to report on their Scope 3 carbon emissions, in a system that will be unveiled ahead of COP28 in Dubai.
This is no easy task, given there are more than 600 global standards for greenhouse gas emissions currently in operation. Another layer of confusion lies in how to communicate emissions levels to consumers. The Grocer understands there are many rival on-pack labelling schemes vying for official backing. And unlike the health reporting plans, these will be mandatory requirements.
It highlights the need to get the foundations of these schemes exactly right. If transparency is the end goal, the crucial starting point is to determine what we actually want to measure.