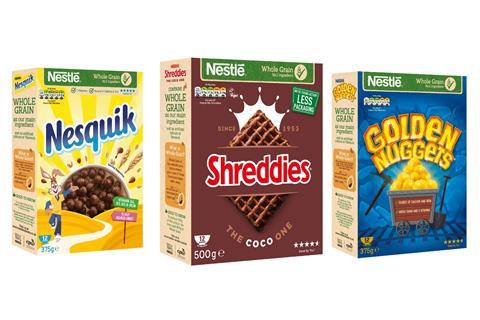 Nestlé is slashing sugar and salt across a swathe of its cereal brands to make them non-HFSS.
By the end of 2021, up to 16% less sugar and 50% less salt will be used across Coco Shreddies, Frosted Shreddies, Honey Cheerios, Nesquik, Cookie Crisp and Golden Nuggets.
This was equivalent to removing an estimated 59 million teaspoons of sugar and three million teaspoons of salt from its products, said Nestlé.
The changes will mean that the products will no longer have any red traffic lights under the government's front-of-pack labelling scheme.
For example, Nesquik will move from an amber to a green traffic light for salt, and from a red to an amber traffic light for sugar.
The reformulations are part of the fmcg giant's ongoing 18-year strategy to improving the nutritional profile of its cereals.
By taking a "staggered salami slice" approach, it was able to "maintain taste" and add more wholegrain to its cereals, it said.
"I'm pleased with the strides we have made as a business", said Gharry Eccles, Cereal Partners Worldwide VP for the UK & Oceania.
"There's no doubt this is a significant milestone for us, and we are committed to playing our part in encouraging healthier lifestyles in the UK."
Last week, Nestlé launched a new low-sugar, non-HFSS cereal for its Cheerios brand.
Called Vanilla O's, the cereal is touted as containing less than 5% sugar with "no compromise on taste".
And Nestlé isn't the only supplier shaking up its range ahead of the clampdown.
Kellogg's, for instance, announced plans in May to make four out of its five biggest cereal brands non-HFSS.