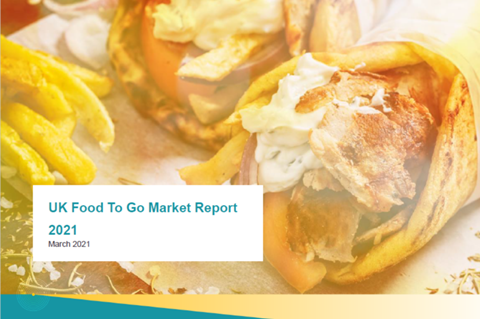 Food-to-go sales plummeted 45.5% last year as coronavirus diminished the need for on-the-go food, new research shows.
According to the UK Food To Go Market Report 2021 by Lumina Intelligence, the market value fell to £11.6bn.
However, the research suggests the channel will grow by 31.6% to £15.3bn this year, representing 72% of its 2019 value, as travel restrictions ease and the vaccination programme takes hold.
Convenience and supermarket grab and go are set to make a stronger and quicker recovery due to their value-led propositions and being less susceptible to tight restrictions.
By 2024, the overall market is predicted to make a full recovery and reach a value of £22.6bn.
"The sudden shift from a highly transient, on-the-go society, to one with restrictions placed on movement had a significant negative impact on the UK food-to-go market in 2020, with much trade diverted to other routes to market such as delivery," said Lumina Intelligence insight manager Katherine Prowse.
"However, buoyed by the easing of restrictions and the swift vaccine rollout, we will see a resurgence of the market in 2021, before a full recovery to pre-pandemic sales levels by 2024.
"Retail-led food-to-go channels that are less exposed to tight restrictions and offer low-ticket solutions are best placed to recover quicker. However, operators and retailers will be forced to adapt.
"The continuation of home and hybrid work patterns for many and the rise in outdoor socialising will result in changes to the ways in which consumers will interact with food to go. Portable food-to-go solutions will strike appeal with consumers meeting friends/family in parks, whereas a shift in focus on food to 'go home', will provide a relevant solution to those home working."