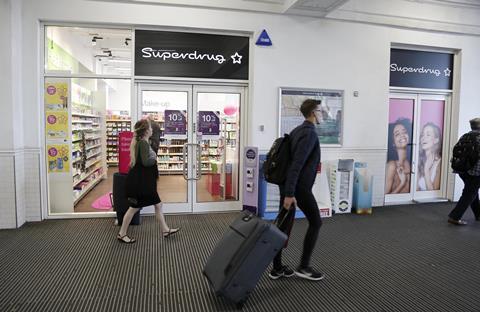 Sister healthy & beauty retailers Superdrug and Savers are defying high street gloom with plans for 80 new stores between them this year.

The target is around 50 new Savers and 30 new Superdrug stores. The pace of expansion for the chains has not let up since 2019, when each is understood to have opened a similar number.

However, parent company AS Watson Holdings is also pressing ahead with a programme of closing existing Superdrugs and reopening them as the more household and discount-focused Savers. The company has already converted Superdrugs in Hawick and Galashiels, both in the Scottish Borders, along with one in Penrith, Cumbria. Around 20 are set to get the treatment this year.

The plans stand to give Savers a total of 70 new stores in 2020 while Superdrug will gain a net 10.

Little has been revealed about the fascia conversion strategy but latest full-year accounts, for 2018, show Savers comfortably outperforming Superdrug on sales growth. Superdrug revenues were up 3.3% while Savers' climbed 10.2%. In the same year, Superdrug opened 23 stores and closed 13, leaving an estate of 806. Savers opened 33 and closed 3, leaving 441.

The Penrith store has undergone its second fascia change, having previously been converted from Savers to Superdrug. It opened as a Savers again earlier this month.

The former Superdrug in the Scottish Borders has been a Savers since 1 February. Along with the conversion of Galashiels, it left just one Superdrug in the Scottish Borders.

"At Superdrug and Savers, we are continuing to support the high street by opening new stores in towns and cities across the UK," said a spokeswoman for the retailers.

"We are aiming to open a total of 80 new Superdrug and Savers stores in 2020, which is 25 more stores than we opened in 2018. We are also looking to convert up to 20 Superdrug stores into Savers in 2020."

Savers has recently opened stores in Portadown, Leeds, Bristol and West Ealing, while Superdrug has opened in Birmingham, East Kilbride, Chester, London's South Bank and Jersey.