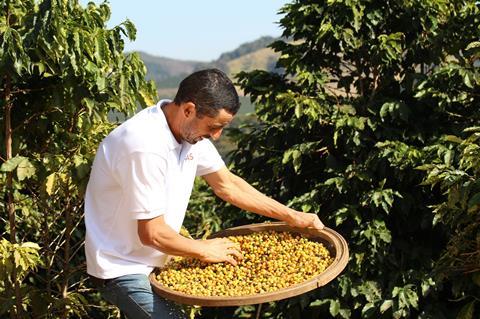 The recent 2023 Coffee Barometer, an in-depth report assessing progress towards sustainability within the global coffee sector, makes for sobering reading.
The authors note a worrying truth amid the claims of sustainability and promises of a prosperous future in coffee agriculture. "The harsh reality faced by coffee producers is marked by price volatility and rising production costs due to higher prices for fertilisers and labour," they say. Coupled with rampant inflation and a rapidly changing climate, the report concludes the coffee sector is in "a state of crisis".
Through Fairtrade's work with over 870,000 smallholder coffee farmers worldwide, we've heard firsthand the challenges involved in producing this lucrative crop. Sadly, farmers in many low-income countries still see little value from coffee and bear most of the risk.
Smallholders produce 75% of the world's coffee, yet lack negotiating power in supply chains. The average non-Fairtrade coffee farmer earns as little as £1.37 a day. That makes it incredibly difficult to escape poverty and build resilience to threats such as the climate crisis, despite a growing interest in sustainability solutions.
Farmers continue to sound the alarm about how climate change is disrupting coffee production, reducing quality and yield, and increasing farming costs. Research backs this up: experts warn temperature rises of just 1.5ºC–2ºC could see land highly suitable for growing coffee slashed by over half.
Fairtrade is committed to supporting producers in facing these threats. For instance, we recently raised the Fairtrade minimum price paid to coffee farmers, which helps to protect them from extreme drops in the market price.
I'm delighted that in 2022, sales of Fairtrade coffee in the UK rose by 3%. And in 2021, global sales of Fairtrade coffee generated upwards of $85m in premium funds – an additional sum that farmers can invest in business and community projects of their choice.
However, there is room for much, much more. Our figures show only 7% of coffee purchased in the UK is sold on Fairtrade terms. Brits consume around 98 million cups of coffee a day. If each one was ethically sourced, imagine the vast difference that would make to farmers in need of a fair price.
That's why, to mark International Coffee Day (1 October), Fairtrade Foundation is speaking out about how choosing Fairtrade beans can help safeguard both the livelihoods of farmers and our future supplies of coffee.
Only when companies commit to paying farmers sustainable prices for their crops will we see an end to the deep injustices in global trade – injustices that leave farmers without fair prices or the power to transform their futures.
As the aforementioned 2023 Coffee Barometer concludes, if the coffee industry were to "promptly" improve its trading practices and procurement policies – e.g. terms of payment and pricing – directed towards coffee farmers, this "would have an immediate effect on their income and the security of their livelihoods".
We agree wholeheartedly. Fairtrade cannot, by itself, solve the state of crisis facing the coffee sector. But together, all of us – farmers and traders, roasters and retailers, consumers and certifiers – can and must do what we can to ensure coffee farmers receive the fair pay their hard work deserves. This International Coffee Day, it's the least we can do.