This article is part of our Digital Feature on Household.
Scented candles, reed diffusers and other products designed to make Brits' homes smell divine are booming, with value sales up 7.1% over the past year [Kantar 52 w/e 1 March 2015]. And it's not just any old air freshener driving growth; instead, consumers are opting for premium candles, with the price tag to match, to create sweet-smelling ambience in their homes.
"Candles have seen a huge premiumisation this year, with shoppers wanting more from a candle than just ambience and Aircare. This means shoppers are far happier to pay a little bit more for a candle than they used to be leading to huge growth," explains Tim Nancholas, strategic insight director at Kantar Worldpanel.
Value sales of candles are up 22.1% on volumes up 10.3%, and more than a quarter of British households now purchase scented candles [Kantar]. Yankee Candle was the key driver behind this, accounting for more than a quarter of the candles market. Its sales grew by 115%, adding a further £10.8m to the brand's value. Glade also achieved value growth in the candles market, while Air Wick, Febreze and P&G suffered losses.
VALUE
PENETRATION
£m
y-o-y %
Households %
y-o-y %
Other aircare
323.7
2.4
65.6
-1.1
Candles
78.0
22.1
26.5
6.0
Reed diffusers
28.3
32.1
10.6
24.4
Total aircare
432.1
7.1
71.4
-0.2
Retailers are tapping the trend through own-label offerings, with Morrisons nearly tripling its value sales of candles to £2.6m thanks to premiumisation while Sainsbury's added a further £1.3m to its own-label range. In total, own label candle sales have hit £17.5m [Kantar].
Candles can't take all the credit for aircare's growth, though. Reed diffusers have played a significant part by attracting new customers into aircare at a slightly lower price. Consequently, value sales of reed diffusers are up 32.1% and now feature in one in 10 households across the country.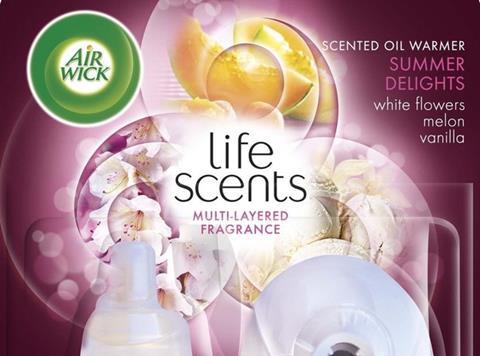 Indeed, this was one of the formats in which Air Wick rolled out its Life Scents range earlier this year, alongside oil plug-ins, autosprays and colour changing candles. The range was described by Reckitt Benckiser as the biggest development in the brand for many years and was supported by a £4m cross platform marketing campaign including TV, digital, social, out-of-home and in-store activity.
Other formats such as fabric fresheners and battery-powered products also saw growth, adding 10% and 5.7% in value, respectively. The only formats to suffer were electrical and car [Kantar].
In association with: