It's no surprise that Iceland MD Richard Walker thinks loose produce trials and refill stations are not for the average shopper, as he told The Grocer this week.
It follows, after all, Iceland's ditching of a single-store loose produce trial because it wiped nearly a third off sales. And the scrapping of a trial of bananas in paper bands because they increased food waste – one of the criticisms he levelled at competitors' initiatives.
But the airing of Walker's views may give pause for thought to rivals, as Waitrose, Asda and M&S explore refill stations and many look to loose fruit & veg to cut plastic.
Walker spoke to The Grocer to answer questions on Iceland's new trial, of putting produce in different packaging rather than none. Apples and pears, usually in plastic film bags or flow wrap, and oranges, in a plastic net, instead get sustainably sourced paperboard trays. Mixed peppers and avocados are moved from flow wrap to the paperboard tray with a band.
Paper-banded bananas are back, now displayed in "hammocks" for better protection.
It doesn't get rid of plastic entirely in all cases. The peppers and avocados, for example, retain a "small amount" in the band. Blueberries and raspberries retain a plastic film lid.
But across the 38 lines involved, plastic is reduced by 93% using 29 "UK-first" solutions, Iceland claims.
So is it really better than having more loose produce or ditching single-use packaging entirely? And what makes it so?
What's different about this trial?
RW: We have seen a number of trials across the industry [of loose produce and refill stations], particularly one-off store activations. However, this trial is the largest of its kind and is live across 33 south east stores. It's ground-breaking in terms of its scale but also in the number of solutions developed.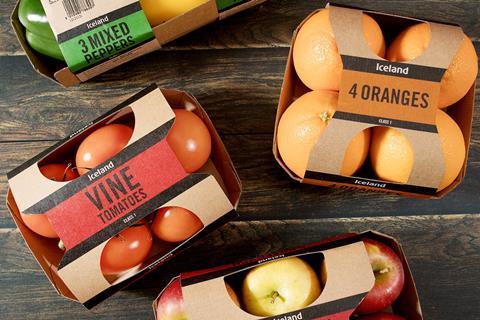 What makes it more scalable than loose produce?
RW: It's focused on reflecting how people typically buy fresh fruit and veg, as opposed to needing people to change how they shop. We have worked to make packaging replacements as user-friendly as possible. We also haven't added a penny to the end cost to the customer.
The solutions would not require any changes to our store operations and layouts, as is the case for some of the refill initiatives that are live across the industry. This means we could roll out successful elements of the trial at a national scale relatively quickly and easily. It will result in the removal of an estimated seven tonnes of plastic during the trial period alone, and if rolled out on a national scale would remove up to 440 tonnes of plastic annually.
The innovations have also been developed to protect produce at point of sale. We're committed to eliminating risk of additional food waste.
Is it also about protecting sales?
RW: We are confident our customers will respond positively, but of course we need to maintain sales in order to ensure our approach is sustainable.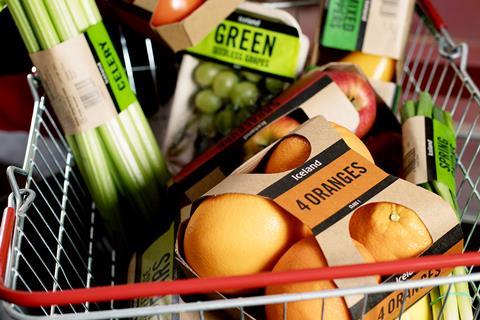 Has an assessment been made of the carbon footprint of the new packaging versus plastic?
RW: We cannot take a single-issue approach. Carbon is important but packaging is only around 5% of the food system's carbon footprint.
The Environment, Food and Rural Affairs Committee's plastic food and drink packaging inquiry 2019 highlights the need for more research to support evidence-based decision making in material choices.
What about the plastic that remains?
RW: It's a huge challenge as we are leading the industry to innovate in many instances, and feel confident that the remaining plastic can be removed as we progress over coming months and years.

In business today profit is inextricable from purpose. And nowhere is that truer than when it comes to food and drink. From single use plastic to surplus food to slavery-free supply chains, the UK's grocery industry sits at the heart of almost every major ethical and environmental issue that shoppers are passionate about. Doing nothing is no longer an option.
For Britain's dynamic mix of brands, retailers, wholesalers and suppliers that shift poses both major challenges – and major opportunities. All of which we'll explore at The Grocer's 2020 conference: How to have a purpose.
When: 11 March 2020
Where: The British Library, London
Featuring a prestigious line-up of senior industry figures, the day's packed agenda will include talks, panels, workshops and more. Find out more here.