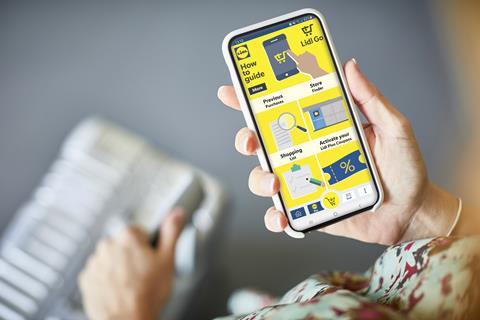 Lidl is still working on a 'Lidl Go' concept, though it may be more modest than the scan-as-you-shop tech the discounter inadvertently leaked news of last year.
The supermarket now has two Lidl Go trademarks: a registered one, which it filed last July to apply to "self-scanning systems for customers", and a new application filed this month as the name for "self-checkout-systems in retail stores for the convenience of customers to pay for goods".
As revealed by The Grocer following the first trademark application last year, a scan-as-you-shop app called Lidl Go was briefly available to download from app stores, and a terms & conditions page on Lidl's website named the Fulwell branch in south west London as the pilot store for the technology. Both the app and web page were deleted following enquiries from The Grocer, and in November, Lidl GB's then-CEO Christian Härtnagel said the supermarket was "not there yet" with the tech.
Lidl already has self-checkouts in a number of stores, notably in London, including a 14,000 sq ft branch that opened on Tottenham Court Road in 2020. They are also in the nearest store to its head office, in Wimbledon, a branch which reopened last week after expanding into a former Halfords to become 27,000 sq ft.
Rival discounter Aldi opened its first checkout-free store in January this year, called Aldi Shop & Go, in south east London's Greenwich, where shoppers can 'just walk out' and pay automatically via an app.
Commenting last November, Härtnagel said: "We're monitoring with high interest what's happening in the market, what competitors are doing and we're looking at this but no immediate news, nothing around the corner.
"We're not there yet but we have an app and we have a name. That's a starting point."
He said Lidl was "only going to launch it once we're convinced it really works for our customers as well as for our business".
The supermarket has provided no comment on the latest plans or trademark application for Lidl Go.