Aldi has launched its counter-offensive against Tesco's promise to 'Price Match' the discounter on hundreds of products.
Aldi has hit back with direct price comparisons in a series of press and social media ads, claiming savings of up to 50% on equivalent products.
They include a Tesco 220g Finest Dry Aged Sirloin steak at £7.48 versus a 227g Aldi Specially Selected Aberdeen Angus Sirloin Steak at £3.69.
"The only way to get Aldi prices is to shop at Aldi," according to the ads.
Some of the social media ads have taken a more irreverent tone, saying "Tesco have dropped a few prices. Amazing. All our prices are low every day."
One Aldi tweet said: "We had a plan to price match Tesco but we didn't want to put thousands of prices up."
Tesco launched its campaign last Thursday (5 March) in a major escalation of its price war with the discounter. The campaign sees about 300 products matched to Aldi's pricing, and checked by Tesco twice a week. Products included have a red Aldi Price Match bubble at the shelf edge and are also marked up online.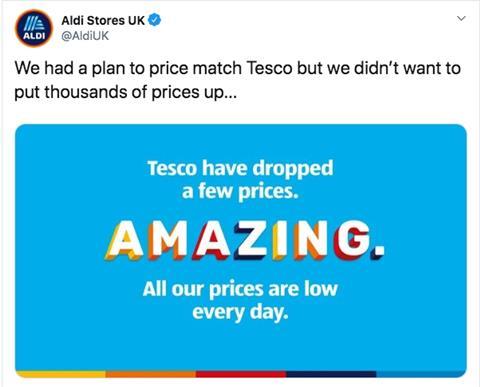 An Aldi spokesman said: "Our promise to our customers is they will always pay the lowest prices on every product we sell. It's why millions of shoppers continue to switch to Aldi from our more expensive competitors, including Tesco. Aldi customers are guaranteed to make significant savings every time they shop with us."