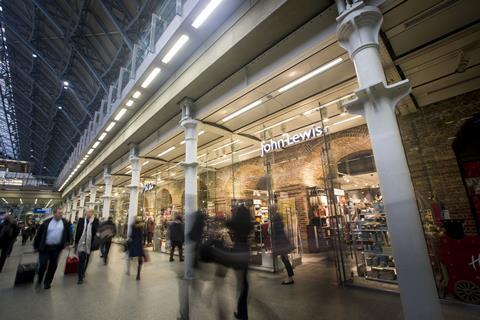 Grocery technology firm Eagle Eye has won a three-year contract with Waitrose owner John Lewis to help improve the group's digital customer marketing.
Shares in the listed group jumped as much as 9.9% to 238p on the back of this morning's announcement before settling back down to 4.5% at 225.6p at the time of writing on Friday (12 May) lunchtime.
The deal excludes Waitrose but Eagle Eye already works with a number of grocers including Asda, Sainsbury's, M&S and Tesco.
Both Asda and Sainsbury's have already signed up to the same digital platform as John Lewis – Eagle Eye Air – which is primarily designed to target users on smartphones.
By targeting customers with personalised offers, the platform promises to drive footfall in-store and offer deeper customer insight.
"We are delighted to have won this contract and to be imbedding Eagle Eye's technology as an integral part of John Lewis's digital strategy," said Eagle Eye CEO Tim Mason.
"John Lewis is a market-leading, high-profile retailer and this win further reinforces the clear competitive benefits our solutions deliver to retailers.
"Consumers are increasingly using mobile as their preferred channel and savvy retailers are using digital promotions as a key driver to enhance customer engagement. Eagle Eye has the proven technology to capitalise on this structural industry shift."
The news follows the appointment of David Aylmer as chief operating officer earlier this week.
Shore Capital technology analyst Peter McNally said the contract appeared to be "substantial" given its length and the size of John Lewis.
"The good news continues at Eagle Eye," McNally added. "In the year to February, 2017, John Lewis reported £11.4bn in sales, making it the fourth tier one customer for Eagle Eye in addition to Asda, which is now fully rolled out in the UK, and Sainsbury's and Loblaws that are both in the integration phase of roll out.
"We expect this contract with John Lewis to initially generation implementation revenue in the first year which should increase substantially in the second year and then migrate to transaction revenue.
"This is further validation of the company's technology and further evidence of the management team's ability to continue to sign large customers."
Investec analyst Alistair Ross added the contract win with a high-profile retailer reinforced the fact that Eagle Eye's offering delivered "a clear competitive advantage" to its customers.
Eagle Eye validates and redeems digital promotions in real-time for the grocery, retail and hospitality industries. Its clients include Sainsbury's, Asda, M&S, Greggs, One Stop and Molson Coors.
In March, the group reported a 72% jump in first-half turnover to £5.1m in the six months to 31 December 2016, during which time it increased its brand partners from 56 to 70. But the company made a loss of £879,000, driven by its investment in a Canadian client.