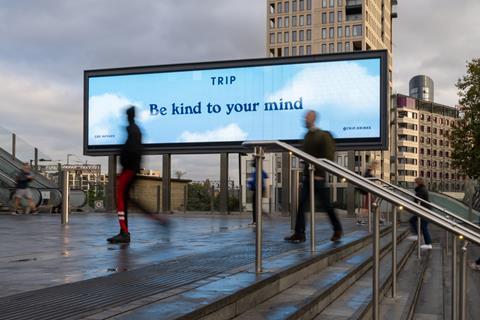 CBD brand Trip has splashed "positive affirmations" across more than 1,000 UK billboards ahead of World Kindness Day.
The campaign – titled 'Be Kind to Your Mind' – launched this week and focused on "busy travel locations", including Leicester Square, Westfield shopping centre, Shoreditch and Notting Hill high streets and more than 1,000 other locations nationwide.
It would encourage people to "look up, take a moment for themselves and remember that no one should feel alone in their struggles", said Trip.
Shoppers who visit the brand's website will be able to claim a free 'Be Kind to your Mind' t-shirt with every purchase.
The push will run until World Kindness Day (13 November), after which the billboards "will have been seen by millions of people", it added.
Trip founder Olivia Ferdi said she hoped it would "open up conversations" around mental health.
"After the challenging two years we've had, more than ever the world is recognising that mental health is intrinsic to good health," Ferdi added.
"Our mission has always been to share calm, not only with products but also through community and content."
It comes after the startup secured a $5m (£3.5m) cash injection to grow in the US in May 2021.
Trip said the funds raised would help launch its RTD cans and CBD oils into the US market, make new hires and drive the brand's plans for international growth.
In the same month, Trip revealed that it had been selected to join Sainsbury's Future Brands incubator programme, becoming the first CBD brand to do so.