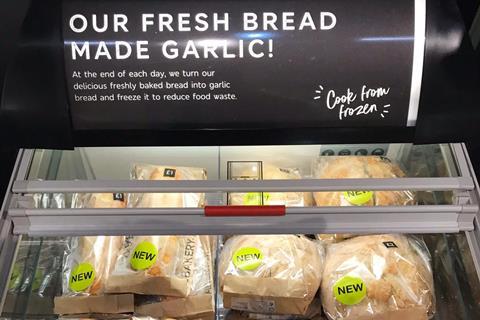 Marks & Spencer has rolled out its initiative to turn unsold bread into frozen products to 200 stores in continued efforts to tackle food waste.
Last year, the retailer launched a trial scheme that turned its unsold, freshly baked baguettes and boules into frozen garlic bread to extend their shelf-life and prevent waste. Following the success of the eight-store trial, M&S decided to expand it to 200 stores across the country.
The bread is prepared and filled with garlic butter in-store at the end of each day and then sold as frozen, adding 30 days to its shelf-life. Customers are made aware of the initiative via clear "shelf-edge signage".
"We're always looking for new opportunities to reduce the quantity of unsold food as part of our commitment to halving food waste by 2030," the company said in its recent 2021 Plan A Report.
This year's sustainability-focused report showed that the supermarket chain reduced its in-store food waste by 36% compared with 2017/2018. M&S also said there was "good progress" on its commitment to redistribute all edible surplus by 2025. The company's redistribution programme in partnership with Neighbourly saw nearly 5,000 tones of surplus food, or 11.8 million meals, being donated in 2020/2021.
"We're developing exciting new concepts and processes in our stores as well as upstream developments to our forecasting and accuracy systems. We are seeing some positive results from our trials," M&S said in the report.
"In 2021, we plan to further enhance the redistribution programme, with plans to complete a number of new store-based trials."
M&S has also implemented further schemes to reduce its plastic and packaging in efforts to hit its net-zero emissions goal by 2035. Just recently, the retailer expanded its packaging-free concept Fill Your Own to eight more stores.
Fill Your Own lets customers fill their reusable container of choice with a whole host of groceries, such as pasta, cereal, nuts and frozen fruit. The refillable programme, which was first launched in December 2019, has now been introduced to a total of 11 stores – including Stratford City London, Lisburn, and Sears Solihull.
The 2021 Plan A Report also showed that M&S has implemented so-called "smart solutions" to engage factory workers across national and international supply chains. As factory audits became more challenging to undertake during the pandemic, the app-based system allowed employees to provide feedback and voice their concerns.