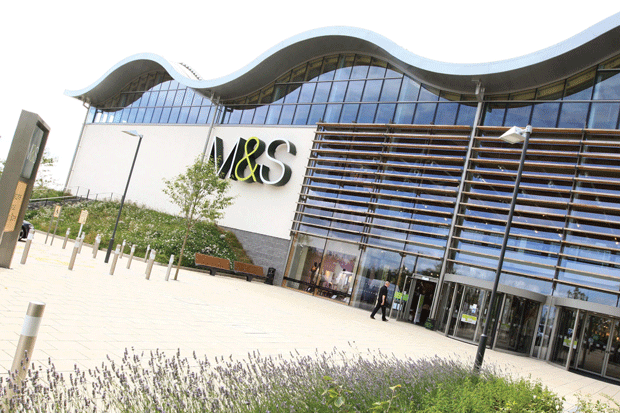 M&S is likely to accelerate its move away from city centres and high streets towards retail parks after the coronavirus crisis, according to CEO Steve Rowe.

The food business "outperformed" the wider grocery market, with strong like-for-like revenue growth of 1.9% and operating profit up 11.2% in the 52 weeks ended 28 March.

Standalone Simply Food stores had traded well, up 17%, with a positive trend in many retail park stores, the company said in its full-year results.

However, during lockdown this had been offset by the struggling travel franchise outlets and the closure of in-store cafés. The pressure had kept food sales at an average level in the past three weeks, the retailer said.

Some city centre stores had also struggled during lockdown, Rowe and M&S chairman Archie Norman revealed.

"Where we've been reshaping the estate over a number of years now has been a movement largely from city centres and high streets to retail parks," said Rowe.
On Covid-19's impact on the movement away from city centres, he added: "I think we're already on that trajectory and the changes to shopping behaviour will probably emphasise and accelerate that a bit more."

Norman said: "This has been a catalyst for people to try shopping differently and some of that will never be the same again. We can all see that.
"What that means is that locations which were probably looking fragile before are looking even more fragile now.

Norman added: "We've got city centre stores in Manchester, Liverpool et cetera that are great stores. Vibrant city centres where there are a lot of workplaces, residential movement et cetera, they've got a future, so I'd hesitate to codify it around city centres versus retail parks.

"But city centres that don't have that vibrancy and have been struggling anyway, where people have to flock to on public transport, they've taken a hit during this period.
"It should be a catalyst for every city council, local authority across the country and retailers like ourselves to come together and start planning for how you make these urban centres vibrant again."
Rowe said: "Where we have got high food-on-the move locations in city centres, that will take some time to recover and we'll keep a careful eye on how they trade in the future."

Rowe also revealed that M&S was in talks with shopping centres over service charges, as well as renegotiating a number of "onerous" leases.

He said a failure to renegotiate prices and lease lengths could see M&S walk away from properties. "We're also talking to them about service charges, which are hidden part of the cost of property, particularly in the big centres.

"I would say, though, that they are very constructive. We are in dialogue with our landlords and we paid our rent roll in full in April and we intend to do the right thing.

"But we are looking for changes because the world will never be the same again."

He said non-viable stores would be closed but the net estate was growing.
A key plank in M&S's diversification away from traditional retail is the signing of its joint venture partnership with Ocado, which will begin to stock more than 6,000 M&S food products from 31 August.
M&S revealed in its results that the Ocado platform would also stock 1,600 of its essential clothing lines as the retailer looked to revamp its flagging non-food business.
The sales and profit growth in food for the year was not enough to address the group's falling profits as weaker clothing and home sales hit its bottom line.
Profit before tax and adjusting items fell back 21.2% to 403.1m.

Statutory profit before tax of £67.2m represented a 20.2% fall on last year's figures as it included adjusted items of £335.9m, with £212.8m for costs and stock writedowns for Covid-19 and £78.5m of store impairments and property charges.

Total sales for the year were down 1.9% to £10.2bn.