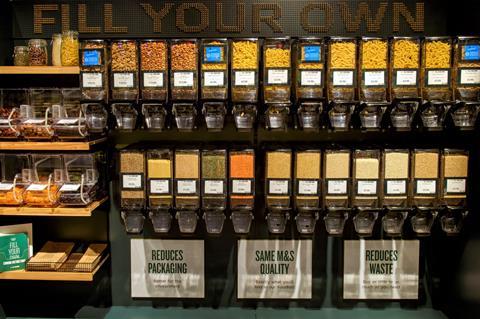 M&S is extending its packaging-free refill trial to a second store.

The initiative was launched at the newly refitted M&S Food Hall in Hedge End, Hampshire, in December. The store, which is M&S's biggest Food Hall, features an aisle of refill stations where customers can dispense a range of produce including rice, pasta, cereals and nuts into reusable containers.

The trial is set to arrive in a second store, in Manchester city centre, this month.

M&S is one of a number of retailers exploring refill stations as a solution to packaging waste. A similar initiative from Waitrose, called Unpacked, launched as a new store concept in Oxford last summer, and has since rolled out to three more locations. Asda plans to sell branded and own-label products in banks of dispensers in Leeds from May. And last month The Grocer revealed Aldi was set to launch a "reuse and refill" trial later this year.

M&S's 25,000 sq ft Hedge End Food Hall offers a range of 44 packaging-free "cupboard essentials", also including lentils, confectionery, coffee and dried fruits. All are own-label.

Customers without their own container can buy a reusable plastic one for £7.50.

Two weighing stations are provided where containers must be weighed twice, first empty and then filled. A member of staff stationed in the aisle to guide shoppers is one of several new roles at the store.

Free paper bags are also available in the aisle, but M&S said customers were increasingly using reusable containers as "behaviour change" started to take place.

Sales of M&S's reusable containers at Hedge End had increase by 38% since the trial launched, and by 10% across all M&S stores since last year, the retailer said.
M&S said its research showed 75% of consumers were consciously trying to reduce their use of plastic packaging. A survey of 2,200 adults, conduced by YouGov, found two thirds of consumers were more likely to consider using refill stations than a year ago. Some 23% were "actively seeking" retailers offering the service.
The challenge of finding such a service was the main barrier for 38%; the need to carry containers was the biggest obstacle for 18%, and concerns about paying more stopped 14%.

M&S claims all the products in its trial offer better value per gram than the packaged equivalent. Of the 44 lines at Hedge End, 25 were now selling in higher volumes than the packaged alternative, according to the company. Bestsellers include M&S's Triple Chocolate Crunch cereal, Whole Scottish Porridge Oats, Basmati Rice, Milk Chocolate Raisins, Single Origin Brazil Coffee and Fiorelli Pasta.

"Our Fill Your Own concept is one area we're focusing on as part of our action to reduce plastic packaging and support our customers to reuse and recycle," said M&S director of food technology Paul Willgoss.

"As a completely new way of shopping, we're keen to better understand refill across the entire store process from behind the scenes operations to working together with our customers to encourage behaviour change."