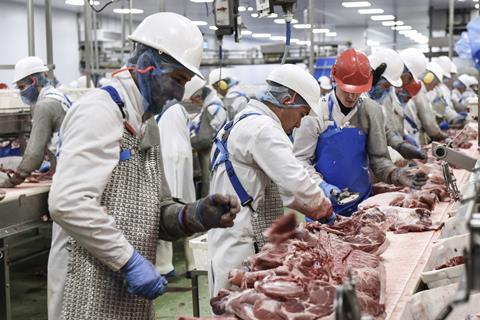 An already-significant shortage of butchers and skilled abattoir workers could escalate into a full-blown crisis unless the government adds the role to its post-Brexit shortage occupation list, processors have warned.

The independent Migration Advisory Committee - which advises the government on immigration policy - launched a review of the list last month, in a bid to further consider the workforce needs of British industry in light of the coronavirus crisis.

The MAC came under fire from agrifood sector leaders last year for largely ignoring its needs for non-UK workers in a variety of roles.

With a new consultation now open and the committee due to report back to the home secretary by September, it was now vital the renewed list recognised the importance of butchers and other skilled abattoir roles, urged British Meat Processors Association CEO Nick Allen.

The committee's categorisation of 'butcher' encompassed many more skilled roles in slaughterhouses than merely those of an actual butcher, Allen pointed out, from slaughtermen to workers involved in boning and cutting, plus the trimming specialists that prepare carcases for storage, processing and sale.
UK meat processors were already contending with a 10%-15% shortfall in these skilled workers before the coronavirus crisis, Allen added, as he warned cutting the supply of skilled foreign workers would make it "harder and harder" for processors to operate.

This could also pose yet another challenge for the sector's cost base, with the issue of carcase balance - which has plagued the sector throughout the crisis - also rearing its head. "You need those skilled people to maximise the value of the carcase," he warned.

Allen's comments were echoed by Association of Independent Meat Suppliers head of policy Norman Bagley, who warned relying purely on unemployed British people would not solve the sector's labour issues alone.
"We're lobbying for as much flexibility on this issue as possible. We need to continue that flow of high skilled foreign staff from the past few years going."