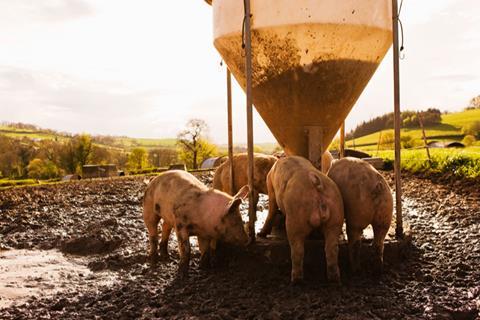 UK pig producers lost an estimated £750m during the two-year backlog crisis that rocked the sector, and things "cannot continue as they are", the National Pig Association has warned.
NPA said pig producers – who up until recently were still dealing with a damaging backlog of animals on farms – desperately needed "lasting reform and a fairer trading environment". The comments came as the sector awaited the results of Defra's consultation on the issues plaguing the pig supply chain.
Defra kicked off a review of the pig supply chain last July, following the backlog caused by a post-Brexit shortage of butchers, a slump in demand from China and low returns to producers. More than 200,000 animals were held back on farms at the worst of the crisis, and thousands more healthy pigs were culled on farms due to lack of space.
The severity of these issues had "raised questions about the functioning of the supply chain", Defra said at the time, as it sought views on issues such as transparency, price reporting, clarity of contractual T&Cs and market consolidation. Its stance had been in stark contrast to ex-PM Boris Johnson's earlier dismissal of the crisis in autumn 2021.
Farming minister Mark Spencer promised earlier this month that the review would be published "very soon".
And NPA CEO Lizzie Wilson this week said the 350-plus consultation responses, most of which came from producers, "gave Defra a very robust mandate, but also a comprehensive body of evidence to be able to make real progress".
The industry body is calling for contractual legislation, similar to what is planned for the dairy sector, and what egg producers are also demanding, in a bid to give pig producers greater rights when dealing with buyers.
The NPA's reform wish list
1. Contractual practice needs to be underpinned by legislation to ensure accountability and deliver change for all producers and processors
2. Contracts should follow a framework to allow producers and processers/marketing groups to negotiate terms that work for both parties. The NPA has outlined four principles for contracts in line with the powers within the Agriculture Act 2020:
Price needs to be fair, transparent and negotiable
All parties should be able to negotiate a contract fairly
One-sided clauses should be removed
A mechanism for dispute resolution is essential
3. Penalties for out of specification pigs should not deliver a negative or zero value when contracted pig numbers have not been fulfilled
4. Better forecasting is needed to help inform business planning, including a mandatory monthly pig weaning survey
5. Processors should submit details of their contracted pig numbers to Defra for price reporting purposes
6. Full transparency is needed for price reporting mechanisms
7. Retail, food service and wholesale businesses should formally report the volume of cuts, carcase utilisation and origin of pork on a regular basis
8. Retail and food service companies need to commit to buying a reasonable proportion of the pig carcase and utilising more British pork from it for products within their supply chains to help improve carcase balance
"We need the risk to be more proportionately spread through the supply chain, and that will only come with far-reaching reforms," it said.
The backlog crisis – which drove a 15% drop in the national breeding herd in the 12 months to June 2022 as animals were culled or struggling farmers halted production – means the sector has now swung from oversupply to undersupply.
"We have moved from a situation where processors did not have the capacity to take the number of pigs available, causing horrendous backlogs on farm, to one where we now have a shortage of British pigs," said NPA chief policy adviser Rebecca Veale.
"Pig prices are now rising as a result, but this degree of volatility is in nobody's interests, which is why we want to see a more balanced trading environment, better forecasting and for buyers to take a longer-term perspective."