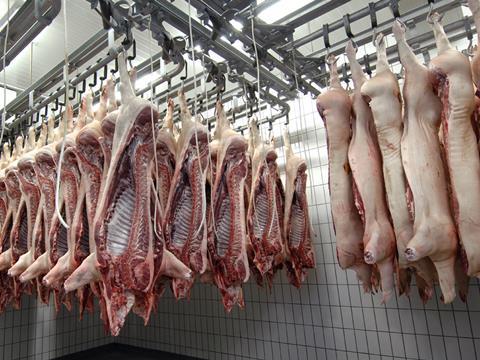 UK red meat exports hit record levels during the first half of 2022, with total sales climbing to £858m – some 18.2% higher than pre-pandemic levels, new analysis by AHDB has shown.
Latest HMRC export statistics showed almost 314,000 tonnes of UK beef, lamb and pork were shipped to export markets around the world between January and June, the levy board said. This was up by 268,543 tonnes (or 16.9%) on the same period last year.
Value exports of red meat had already reached record levels of £726m in the first six months of 2019, representing a 9% on 2018 figures, AHDB added.
They subsequently fell in value to £673m during the first six months of 2021, due to the impact of Brexit and Covid-19, but are now in touching distance of the £1bn barrier.
"It is very encouraging to see the value of our red meat exports so far this year has not only surpassed pre-pandemic levels, but reached record levels," said AHDB international market development director Phil Hadley.
"Covid-19 could have adversely impacted exports long term. However, the reality is that despite a number of challenges, our exporters have been able to continue sending beef, lamb and pork to existing and new markets around the world."
This year, beef exports, which includes offal, rose by 73.6% in value year on year to reach £319m – the majority of which was sent to the EU.
Lamb exports were worth more than £245m – with both volumes and value up 22.9% and 32.5% respectively, with the lion's share of the meat shipped to the EU.
Pork export volumes, meanwhile, increased from almost 177,000 tonnes to more than 193,000 tonnes. However, value fell 3.6% on a market total of £292m.
Some of this reduction was due to shipments of pork to non-EU countries falling by 11.8% in volumes and 23.6% in value due to a slowing in global demand, though exports to EU markets rose from £84.6m last year to £125m in the first half of 2022.
Hadley added: "AHDB has heard from levy payers that they value our export work, so we will continue to work with government and industry to identify new markets for our red meat, to build on these impressive figures."
It comes as Defra today announced an African swine fever-driven clampdown at UK borders on small consignments of pork and pork products not produced to EU commercial standards.
From 1 September, individuals will only be able to legally bring in up to 2kg of pork for personal use, and there will be increased vehicle checking at the border. Anything over 2kg will be confiscated.
British Meat Processors Association CEO Nick Allen said: "Our concern had been mounting over the worrying increase in small van loads of meat entering the UK from areas with African swine fever, but with no border checks.
"So, we're extremely relieved that these new measures are to be brought in with immediate effect. The government listened carefully to our concerns and acted quickly to tackle the growing threat to the British Isles of African swine fever."