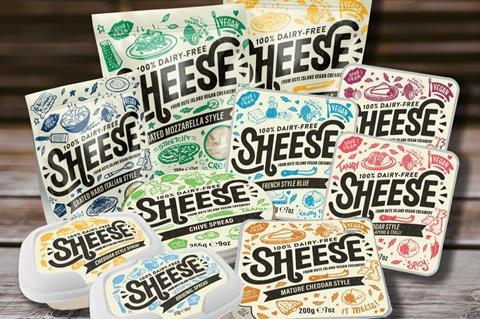 Canadian dairy giant Saputo has taken a further step into dairy alternatives after acquiring the owner of Scottish vegan cheese brand Sheese.
The parent of Cathedral City owner Saputo Dairy UK announced the purchase of Bute Island Foods today (25 May), alongside a deal to acquire a Wisconsin-based added-value dairy ingredient factory owned by US manufacturer Wisconsin Specialty Protein. Saputo said the combined value of the two deals amounted to CDN$187m (£109.7m).
Saputo described Bute Island Foods as an "innovative manufacturer, marketer and distributor of a variety of dairy alternative cheese products for both the retail and foodservice market segments".
The company, which launched Sheese in 1988 as a soya-based product and also manufactures own-label vegan cheese alternatives, is located on the Isle of Bute off the West Coast of Scotland and employs approximately 180 people.
Sheese – which is now made using coconut oil – saw sales rise by 16.6% to £1.2m last year with volumes climbing 12%, according to data for The Grocer's Top Products survey [Nielsen 52 w/e 5 September].
Saputo – which also owns UK plant-based spread and cheese alternative brand Vitalite – said the acquisition of Sheese was part of a commitment to "expand our footprint in the dairy alternatives space to meet the changing demands of our customers and consumers".
It planned to "continue to support and strengthen the Sheese brand and bring their products to new markets", the supplier added.
"We are delighted to welcome the Bute Island Foods team and the wealth of knowledge they bring to our global family," said Saputo CEO and chairman Lino Saputo.
"This investment marks an important milestone that will allow us to accelerate our growth in this area globally, putting innovation at the forefront of our priorities."
As part of the purchase, Saputo will also donate more than CDN$5m (£2.9m) over five years to support local Bute Island community initiatives.
"Community engagement is important to Saputo, which strives to invest 1% of its pre-tax profits each year in community programs and organisations that promote a healthy lifestyle for people of all ages," it said.
The processor's deal to acquire Wisconsin Specialty Protein's factory, meanwhile, would allow the business "to broaden and increase the value of its ingredients offering, enhancing its portfolio in the United States and internationally", it added.